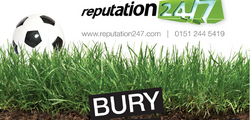 (PRWeb UK) September 27, 2010
While the internet revolution has opened up commercial opportunities for clubs, it has also created a menacing threat that can devastate the business and shatter revenue in the click of a mouse or a few keystrokes. Reputation 24/7 announces their solution -- Reputation Management.
Reputation 24/7 currently work with a number of leading brands and see this new sports service as complimentary to their product range.
Reputation 24/7 make sure only positive results that their clients want are displayed when searching for their name, business name or brand. Online Reputation Management is achieved through a combination of technical and creative skills.
Founder of Reputation 24/7, Nathan Barker said: "If page one and two of Google contain versions of negative newspaper articles, they will cause maximum brand damage, and speed is essential to regain the brand. We create hundreds of new sites full of positive information and saturate Google, Yahoo and other search engines to the point that negative content no longer poses any risk. Effectively bury bad publicity by gagging Google." He adds: "A sponsorship deal or transaction could be jeopardised because a club chairman has been named in a story or player's indiscretions continue to stain the club. Unfortunately one negative story on the club, player or board can affect the whole business and the future revenue."
http://www.reputation247.com or call Reputation Management 0151 244 5419.
###