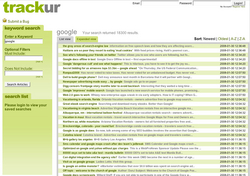 Individuals and companies are just starting to wake-up to the importance of closely monitoring the Web for attacks on their reputation. Holding them back is the lack of reputation tracking solutions that are easy to use, accurate in their reporting, and affordable in their pricing
Raleigh, NC (PRWEB) February 25, 2008
Online reputation management expert Andy Beal has announced the launch of Trackur.com; an easy to use, yet powerful online reputation monitoring tool. Trackur offers powerful news and social media tracking technology with an intuitive interface that makes it possible to start monitoring your online reputation in less than five minutes.
"Individuals and companies are just starting to wake-up to the importance of closely monitoring the Web for attacks on their reputation. Holding them back is the lack of reputation tracking solutions that are easy to use, accurate in their reporting, and affordable in their pricing," says online reputation management expert and Trackur creator Andy Beal. "I've used dozens of different online reputation monitoring tools and, failing to find a low cost solution that meets the needs of most individuals and companies, decided to build Trackur."
Trackur allows users to submit multiple keywords--such as their name, products, and brands--and automatically monitor news, blogs, images, video, and other social media for any mention of those keywords. Powerful customization options allow Trackur to filter out irrelevant content and instead focus on the items that truly match the user's interests. For example, Trackur can alert users to all Web content that includes the word "Apple" and focus only on the items that mention "computers" while removing anything that mentions "fruit."
Trackur is the perfect tracking solution for any of the following:

Individuals who value their personal reputation.
Companies of any size that wish to keep track of online mentions for their brands.
Public relations firms that wish to track and clip social media mentions of their clients.
Businesses that wish to monitor industry trends, competitor news, or consumer feedback.
Journalists and bloggers who need up-to-the-minute news, targeted to their interests.
Trackur is available with three different service levels, each including options to save searches, bookmark and forward items, and receive alerts via e-mail or RSS. You can watch a video demo and sign-up for a free 14-day trial by visiting http://www.trackur.com.
About Trackur.com
Trackur.com is an online reputation monitoring tool founded by reputation management expert and author Andy Beal. With sophisticated technology coupled with ease-of-use, Trackur provides an affordable buzz tracking solution for both individuals and companies. Visit http://www.trackur.com for more information.
###