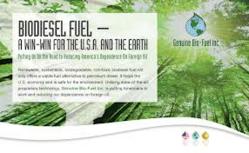 Indiantown, Florida (PRWEB) October 24, 2012
Genuine Bio-Fuel Inc. (GBF), a privately funded leader in biodiesel fuel production and innovation in Florida, will host a site visit for Congressman Allen B. West at its Indiantown plant on November 1st. The visit will include a meet and greet with GBF employees and a complete walk-through tour of the facility. Rep. West will also speak briefly with GBF executives about the role of alternative energy in the fight for American energy independence.
Congressman West was drawn to GBF because of its innovative technology, and its positive impact on the 18th District and surrounding communities. Genuine Bio-Fuel's plant is the only one in the world that truly uses continuous-flow, ultrasonic, shear-mixing technology, to produce biodiesel. This technological advantage allows GBF to produce greater quantities of finer quality biodiesel fuel, while reducing costs and allowing it to utilize a wide variety of feedstocks. In addition, GBF also operates several programs geared to empowering the community such as its Second Chance Program, which employs and trains former inmates and veterans to work in the alternative energy industry.
Congressman West, a strong advocate for energy independence, believes implementing a plan to support companies like Genuine Bio-Fuel will "create new job opportunities in Florida and throughout the country while making us less dependent on foreign energy." Executive Vice President of Genuine Bio-Fuel, Jeff Longo trusts that after the tour "Congressman West will be surprised by the incredible huge potential sitting right in his district that could save hundreds of thousands of dollars for the school district, Florida Power and Light and all cars and equipment that run on diesel fuel." Longo concludes stating, "We look forward to showing Congressman West the value and benefit of our technology to the nation."
More about Genuine Bio-Fuel: Genuine Bio-Fuel Inc. is a leader in biodiesel production and technology in Florida. Working with local communities since 2008, they collect used vegetable cooking oil, plant oils and fats, refine it and efficiently produce renewable, sustainable clean biodiesel that meets or exceeds the required ASTM standards. An RFS-2 Registered Renewable Fuel Producer, this dedicated environmental steward is 100% privately funded.
For media interested in covering this event, or to find more information about Congressman West's visit to Genuine Bio-Fuel please contact Jeff Longo by phone toll free 866-268-7885, or via email at info(at)genuinebiofuel(dot)com.
To find out more about Genuine Bio-Fuel's please visit our website http://www.genuinebiofuel.com/.