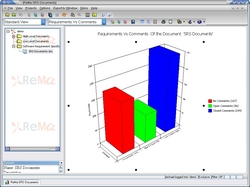 Bangalore, India (PRWEB) September 9, 2008
New requirements management software, Rema has been released. Enterprise users within banking, finance, insurance, aerospace, defense, government and others need to manage large sets of requirements and related information these days. Rema solves this problem by aligning IT and business goals through business requirements management which includes, classifications of different types of data, managing their relationships, and their dependencies, maintaining history along with deep analysis capabilities like change impact analysis. One of the advantages of Rema is the creation of rich and useful requirements management reports and graphs, which are, required for the project briefings.
With these features and more, Rema can be used for the stringent development of avionics projects also. It already has a track record of being successfully used in an avionics system development, where the software is developed according to the Do-178b standards. It has been used in the development of FAA TSO-C145C certified GPS-SBAS receiver NexNav.
The FAA DER involved in this program, Mrs. Tammy Reeve, Patmos Engineering Services, INC had a preview of this software and she had the following words to say about this software: ""Traceability is a very important pat of demonstrating compliance with objectives found in Do-178B. Rema looks like a very promising requirements management and traceability tool for DO-178B life cycle projects and I look forward to exploring all its features in the coming days"
The manager Mr. Rakesh Nayak working on the NexNav product said "Requirement Management had been one of our primary concerns when we started our FAA certification program for a Level B product. The ReMa software provided an ideal framework to capture/manage requirements and also ensured that all the necessary compliances to DO-178B and DO-254 Level B objectives were built into it. ReMa has a very elegant interface to the configuration repository (CVS) that helped our DER's to establish baselines within the framework of the tool. In short ReMa was the right choice and is an excellent Requirement Management tool for any kind of product development."
Using Rema, the relationships can be set between requirements, design, code, test cases and test results. In systems related projects, using Rema, users can map the requirements from hardware requirements to the functional Block level also very easily. In quality audits it is difficult to show traceability (forward or backward) through the various documents and processes. Now with this software, the difficulty is totally removed.
Pricing and Availability
The Requirement Manager tutor can be downloaded from our website for free at
http://rema-soft.com/download.html.
For the 30 day trial version of Rema and the pricing information please contact us at
http://rema-soft.com/rema_contact.asp
Contact us at:
India
# 37, K.R. Colony, Domlur Layout,
Bangalore - 560 071, INDIA
Tel : +91 - 80 2535 0105/0136 /0138
Fax : +91 - 80 2535 2723
http://rema-soft.com/rema_contact.asp
USA
# 6121, Suite 400,
Lincolnia Road, Alexandria,Virginia VA22312
Ph : 703-916-0623
Fax : 703-916-0624
http://rema-soft.com/rema_contact.asp
###