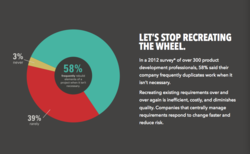 Portland, OR (PRWEB) December 12, 2012
Jama Software, a company changing the way products are conceived, built, and delivered to market, today makes generally available Jama Contour 3.6 to eliminate inefficiencies, rework and duplication of effort in product-development processes. Contour introduces an intelligent, enterprise-wide system to reuse the requirements and other product details that are the same across multiple products.
"Product development is broken within the enterprise and is ripe for reinvention," said Eric Winquist, CEO, Jama Software. "With Contour's enterprise reuse capabilities, organizations can tap into the in-house knowledge they've built over the course of their business. Requirements and the intellectual property around them become real strategic assets."
Every large company faces similar challenges and reuse is key, according to a Jama Software industry survey of product development professionals.
A majority (58%) admit they frequently recreate work unnecessarily.
Nearly all (95%) think reuse is critical to delivering products on time.
More than two-thirds (86%) say they would be at least 25% more efficient with requirements reuse.
Close to one-third (30%) estimate that more than half of their requirements or other strategic assets are commonly shared from project to project.
Improving requirements is increasingly viewed as a strategic imperative, according to industry watchers and analysts. "When asked which among several possible initiatives would improve application development the most, teams put 'improvements of requirements practices' at the top of the list, by a significant margin," writes Tom Grant, Senior Analyst, Forrester Research, Inc. in his December 2011 research report, "High-Value Requirements Are Changing App Dev and Delivery."
About Jama Contour
Jama Contour is taking requirements management to a strategic level, giving organizations centrally managed libraries of reusable product details that automatically update product teams across the enterprise. Much more robust than traditional "copy and paste," Contour keeps requirements synchronized and in context—associated changes, comments, reference items, decisions and other related information—so reusable assets are continually enhanced to improve the quality over time.
With its strong emphasis on collaboration, Contour is unique among product-delivery solutions. Real-time engagement across all stakeholders—from executive sponsors and customers to product managers, project managers, business analysts, QA managers and developers—aligns everyone to the strategic goals and delivery of products. Its flexibility allows teams to customize Contour to fit their unique development processes, whether they are using Waterfall, Agile or a hybrid of methodologies.
Contour 3.6 is available now as an on-site solution companies can self-host or as a secure, hosted, cloud-based solution. For more information and to watch videos on what's new in Contour 3.6, visit: http://www.jamasoftware.com/reuse.
About Jama Software
Jama Software is reinventing enterprise product delivery. More than 600 companies, including 28 of the Fortune 500 and 14 of the Fortune 100, use Jama's collaborative requirements management solution, Contour, to execute complex projects, increase the value of R&D and bring great products to market. Founded in 2007, Jama Software is one of the fastest-growing enterprise software companies in the United States, having recently been honored as a top 20 software company in the Inc. 500 and named one of the Most Promising Companies in America by Forbes magazine. For more information please visit http://www.jamasoftware.com.
Connect with Jama:
@jamasoftware
Press Contact:
Jessica Davis
503-756-8908
jdavis(at)jamasoftware(dot)com