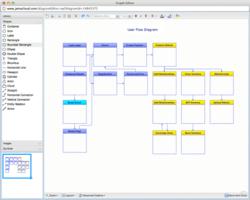 "Building a great product is naturally a very social process that requires a team to take action daily to respond quickly to change, make smart decisions and execute on a shared vision of the project," - Eric Winquist, CEO of Jama Software
Portland, OR (PRWEB) February 07, 2012
Jama Software, the leader in collaborative requirements management solutions, today announced Contour 3.4, the latest version of its software that provides a centralized collaboration hub for enterprise organizations to execute complex projects successfully throughout the development process. New features in Contour 3.4 include visual diagramming, Review Center flexibility and an integration with Rally, a leading Agile software development solution.
"Building a great product is naturally a very social process that requires a team to take action daily to respond quickly to change, make smart decisions and execute on a shared vision of the project," explained Eric Winquist, CEO of Jama Software. "With Jama Contour 3.4, we continue to make it easier for the world's largest and most sophisticated organizations to manage their complex development projects from initial customer needs through to delivered releases."
How Contour Works:
Jama Contour captures and tracks the ongoing flow of feedback, decisions and changes to the details of a project that occur during the development process. Delivered through a flexible and easy-to-use Web application, Contour provides all of the core functionality expected for requirements management, including traceability, coverage, change control, and reporting, but without the heavy overhead and steep learning curves of traditional enterprise tools. Contour's unique value is in delivering "actionable collaboration" across all stakeholders – from product executives and project managers to business analysts, developers and QA teams – keeping everyone in sync through real-time communication and decision making. Its flexibility allows teams to customize Contour to fit their unique development processes, whether they are using Waterfall, Agile or a hybrid of methodologies. Also, through integrations with other leading development tools, Contour provides a best-of-breed solution that ensures requirements are properly managed and, if modified, communicated instantly across the enterprise to ensure that development activities are aligned with business priorities..
New Enhancements in Contour 3.4 include:
Visual: Contour's new in-line diagramming feature helps visualize complex concepts to communicate your ideas faster and eliminate ambiguity. Create flowcharts, org charts or story boards online using a library of pre-built shapes and fonts. With the images stored in-line within Contour, your diagrams are accessible and fully editable with no need to import or export files across applications.
Social: Contour's enhanced Review Center provides a fast and agile way to review plans to gain agreement among a group of distributed stakeholders. Team members can initiate reviews, gather feedback, monitor social interactions and manage an approval process that updates Contour and notifies all team members that requirements are ready for development. For regulatory compliance and contractual commitments, it tracks time invested and keeps a detailed audit trail of approvals and changes to requirements. Contour is the only requirements management solution on the market with Review Center.
Agile: With Contour 3.4, Jama also announces the availability of the Jama Connector for Rally. Contour's integration with Rally creates an ongoing feedback loop, which gives product owners and management confidence that development activities map back to customer expectations and priorities. This integration is an ideal solution for "WaterScrumFall" organizations practicing a hybrid approach to Agile, where Agile development teams are working in real-time with remote stakeholders, and must formally document requirements to meet regulatory compliance and contractual commitments.
Learn more about what's new in Contour 3.4: http://www.jamasoftware.com/newcontour
Pricing and Availability:
Contour 3.4 is available now as an on-site solution companies self-host or as a secure, on-demand solution hosted by Jama. Flexible licensing options are available and pricing starts at $700 per named user per year, which equates to less than $59 per month. The Jama Connector for Rally is sold separately, pricing available upon request. For more information please visit http://www.jamasoftware.com/contour/how-to-buy.php or call toll-free 1-800-679-3058.
About Jama Software
Jama Software is the leader in collaborative requirements management solutions for enterprise organizations managing complex product development projects. Jama was recently honored as a top 20 software company in the Inc. 500 and named one of the Most Promising Companies in America by Forbes magazine. Its Web application, Jama Contour, helps organizations manage the entire requirements management lifecycle through an intuitive, easy-to-use interface that brings people, teams and ideas together to ensure business value is delivered as specified. Customers, from agile start-ups to the largest and most sophisticated technology and IT organizations in the world, turn to Jama to help drive innovation, improve the decision-making process and harness the collective genius of all stakeholders involved in building great products. For more information please visit http://www.jamasoftware.com.
# # #