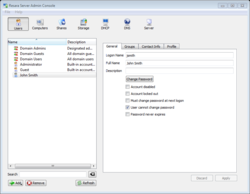 Resara Server is by far the easiest domain controller solution out there. We did not set out to build yet another Linux server, and our success over the last year is a testament that we achieved our goal.
Dover, NH (PRWEB) January 24, 2012
On January 15th, 2012, Resara LLC released the much awaited 1.1 version of Resara Server - the hassle-free Linux domain controller based on Samba4. This is the biggest release since 1.0 was launched in March of 2011, and offers features like multi-server replication and load-balancing, dynamic DNS updates, a new installable ISO, and many other new features and refinements. This release makes Resara Server even easier to install and manage, and a great fit for small businesses, chain offices, and large corporations.
Resara began development on Resara Server in late 2010 to create a practical Linux domain controller as an alternative to Microsoft Active Directory or Novell. "We didn't set out to create yet another Linux server, or a new spin on Webmin" says Warren Luebkeman, CEO of Resara LLC, "Resara Server is easy-to-use, and has the functionality to make it a real alternative to AD and Novell". Resara Server provides a fully compatible Active Directory domain through Samba4, and features comprehensive administrative tools for domain management. "Our solution offers the best of Active Directory without the cost or complexity of a Microsoft solution".
Much interest in Resara Server has come from Netware users, who are under pressure to modernize their networks. With Novell's future uncertain, and the prospect of a costly investment in Suse Linux Enterprise or Microsoft Active Directory, Resara Server offers an attractive and cost-effective exit strategy. "The direction of Novell's products in recent years required us to look at other options", says Daniel Hedblom, System Administrator for the Sollefteå school district in Sweden. "We moved to Suse from Netware, but the resource needs for mono and .net made Zenworks unusable for us. Resara Server and Samba4 is a much cleaner solution, and we are glad to have found it".
Businesses with aging Windows servers also have a lot to consider, as many organizations have to purchase new end-user licensing to upgrade to the latest version of Windows Server 2008. Resara Server provides an Active Directory compatible domain without end-user or per seat licensing, and Microsoft's own group policy tools can be used with Resara Server. This is a great advantage for IT professionals with experience with AD because they can apply their existing training and expertise to Resara Server.
Resara Server has been adopted by many types of organizations around the world. The open source Community Edition is popular among non-profits because it provides essential domain controller functionality at no cost. Larger non-profits and corporations choose the commercial version for support and scalability features, like server replication and load-balancing. "Its been an incredibly busy year for us, and with the 1.1 release we look forward to another year of growth", says Mr. Luebkeman. For more information about Resara, its products, and partnership opportunities, go to http://www.resara.com
###