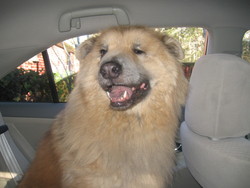 Los Angeles, CA (Vocus) April 30, 2010
Benji is a rescue dog who has had a hard, tough life, to say the least. Born on the streets in a rough and tumble neighborhood of Houston, she came to us with a damaged eye socket, a body soaked in fleas, but with a heart and a will to live as big as the State of Texas. From her early years to her now youthful adult age of 4, Benji has been nothing short of remarkable. An intelligent, witty, charming and loving rescue dog, Benji has been dear to the heart's of Pals for Pets and to all that have met this big hunk of love.
Unfortunately, tragedy struck Benji when one of her owner's unexpectedly died of a heart attack, leaving the sole caregiver a 66 year old woman living alone in a one-bedroom apartment in Houston, who was forced to re-locate to Washington, D.C., but without Benji, her forever companion. Benji currently lives in the Woodlands, Texas with a grateful individual who has temporarily given the furry fuzz ball shelter, but economic times and hardship have put Benji on the shortlist and she has to go.
As a rescue dog, Benji has always been a fighter and Pals for Pets is not giving up on her either. From her damaged eye socket that she sustained from a cruel individual as a puppy to her recent separation from her owners, it's time Benji found a forever place to call home. She's big, beautiful, full of energy, and desperately wants to be loved and cared for. Herformer owner, still emotionally and financially drained and fighting for her life after the loss of her husband, would be forever grateful.
Benji comes with all the goodies that a rescue dog would have-loyalty, affection, but most importantly, the ability to love you like no other creature can. Pals for Pets will happily pay any shipping fees to send this gal to her new home should anyone find it in their heart to help a beautiful and loving rescue dog.
###