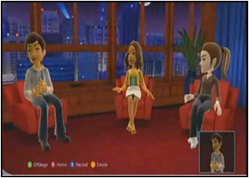 Virtual research using avatars encourages openness among patients with depression.
New York, NY (PRWEB) April 22, 2013
In a study of patients with depression conducted by Lieberman, a leading market research firm serving global healthcare companies, patients were more open, honest and direct about their condition when participating in focus group research in a virtual environment through a self-created avatar compared to patients who participated in face-to-face focus groups and online bulletin boards. The study, entitled The Patient Unveiled – Generating Insights in a Virtual World, was presented at the Pharma Market Research Conference, a gathering of senior level pharmaceutical, biotechnology, medical device and diagnostics executives.
In the study, a similar set of questions related to living with depression was explored among a total of 35 patients within one of four patient groups: those participating via avatar from home, those participating via avatar from a private space within a central research facility, those attending a face-to-face focus group and those participating via online bulletin board. The virtualization was achieved by providing each patient within the virtual groups with a PC-ready wireless motion and sound sensor technology that enabled them to create their own 3-D avatar. Avatars embodied various aspects of patient condition, feelings and behaviors. Patients selected from a range of facial features and expressions, hair styles, body shapes, clothing, accessories and more. The majority of patients created an avatar consistent with their actual or aspirational image.
During the research, virtual respondents were quicker to convey emotion and shared significantly more personal information. They discussed personal issues including attendance at a 12-step meeting, alcohol and/or drug abuse, PTSD and post partum depression. They were more than twice as likely to use "emotional words," as defined by a leading psychiatrist, in describing life with depression. When exposed to video clips of the virtual sessions in a follow-up portion of the study, respondents in the face-to-face focus group believed they would feel more comfortable in a virtual environment.
The virtual research approach used in the study is embodied in Sensor™, a new virtual research tool being introduced by Lieberman to healthcare companies worldwide. Sensor has broad applications to enable greater anonymity for respondents, including patients, physicians, consumers, payers, sales representatives, employees, etc. It also has the ability to bring respondents from diverse geographic areas together in a single virtual "room."
"Virtual research using avatars is at once more personal and more anonymous," said Frank Gabbert, Senior Vice-President & Director of Lieberman's qualitative research practice. "One of our hypotheses was that these characteristics might encourage greater candor and sharing - and they did."
Steve Chasin, a partner at Lieberman and director of the firm's global pharmaceutical practice, stated, "We believe that Sensor virtual research is a potential game-changer for healthcare companies seeking deeper patient understanding; not only of patients with depression but of patients with any difficult-to-talk-about condition, including neurologic, gastrointestinal, incontinence and sexual performance conditions."
About Lieberman
Lieberman is a leading full-service market research company with deep expertise in the pharmaceutical and healthcare sectors. The firm's superior responsiveness, leading edge research tools and seamless integration of quantitative and qualitative methodologies are among the reasons why it is highly rated by the large global companies it serves. http://www.liebermanresearch.com
Contact:
Peter DePasquale
Arena Partners
peter(at)arenapartners(dot)net
917-951-2553