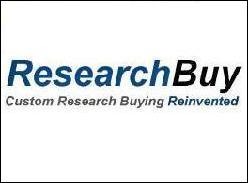 Most buyers we spoke to were uneasy with the buying process that has carried over for the past couple decades. Valid market research can help any marketing effort and an informed buyer acts with confidence
Westport, Connecticut (PRWEB) April 3, 2007
ResearchBuy has launched the fastest way in the world for buyers to source, collaborate and report on custom market research. ResearchBuy™ estimates market research buyers can save up to 30% of the time and effort in buying custom research and working with researchers. The solution includes a management console, workspace function for collaboration and strong reporting. This new application also delivers a low cost marketing channel to thousands of researchers who want to grow their business and find new global research buyers.
Organizations would clearly use more market research if they had more insight around their research buying. Time, quality and money impact all outsourcing decisions with organizations weighing their own priorities. ResearchBuy allows any buyer to address all three factors quickly and efficiently. By using ResearchBuy, buyers can select their researcher based on qualifications, references, other buyer ratings, cost and schedule. Buyers also have the option to work with their existing, preferred researchers and manage their projects securely and confidentially. According to a 2005 ESOMAR study, the market research industry is over $23B worldwide. Buyers include corporations, government agencies, political concerns, marketing agencies, small companies and full service market research firms who buy field research work. Researchers include full service providers, field research houses and research consultants.
"Most buyers we spoke to were uneasy with the buying process that has carried over for the past couple decades. Valid market research can help any marketing effort and an informed buyer acts with confidence," says John Ryan, Managing Director for ResearchBuy. We built ResearchBuy from the ground up to help the buyer source highly rated research providers in hours or minutes, not days. We believe this will ultimately lead to more usage of good market research and allow access to many more high quality researchers worldwide."
About ResearchBuy
ResearchBuy is the only site in the world dedicated to the Custom Research Buyer. The service application allows buyers to source, collaborate and report on custom market research. Visit http://www.researchbuy.com to learn more about ResearchBuy.
Contact:
John Ryan
ResearchBuy
203 220 9196
# # #