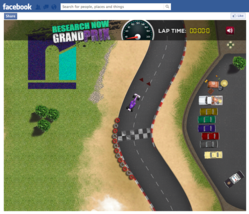 VLG's LeadCloud and Research Now took this integrated marketing campaign to new heights.
Dallas, TX (PRWEB) May 14, 2013
VLG Advertising's Lead Cloud Program was met by thunderous applause after taking top honors at the 13th annual Dallas Fort Worth Interactive Marketing Association (DFWIMA) Excellence In Marketing Awards (EIMA). DFWIMA selected VLG Advertising above all others for its Research Now campaign with the award for the Most Effective Integrated Marketing Campaign.
The Research Now campaign launched worldwide then generated and nurtured leads using 15 global events, direct mail, email, entertainment, the Reward Point System and microsites. The campaign was hugely successful, bringing in a click-through rate of more than 50%. It reached 14 audience segments, was available in five languages, included 75 downloadable assets and a Facebook game.
The campaign uses VLG's Lead Cloud. A Lead Cloud Program provides a full spectrum of VLG's capabilities during a nine month run. It includes a Dialog Marketing Program, email blasts, a Microbranding site, direct mail, retargeting banner ads, and a Reward Point System for a fixed fee per target.
"We're so excited to have this campaign win an EIMA," said Taylor Johnson, Principal at VLG. "Both VLG and Research Now are very pleased with the campaign's impact and thrilled that we now get to share a Lead Cloud Program with the world."
VLG Advertising delivers leads via business-to-business marketing programs that change the way customers and their prospects think about sales, leads, products and services. VLG uses proprietary software, PURLs, unique URLs and some of the best creative you'll find in the B2B marketing space to generate revenue for its clients. VLG produces personalized, trackable, engaging marketing programs that deliver leads to sales and give marketing something to brag about.
Lead Cloud Programs use interactive microsites, variable imagery, personal and non-personal messaging, dimensional mail, email, URL redirects, downloads, opt-ins and retargeting to create custom integrated marketing campaigns for VLG customers.