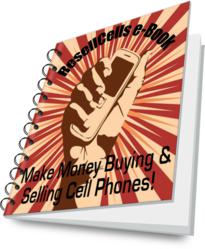 Why does the iPhone 4 sell in stores for $199 and on eBay for over $500?
(PRWEB) June 22, 2011
ResellCells.com, launched in June 2011, is not another website looking to buy used cell phones. Instead, ResellCells is looking to teach readers an entrepreneurial way to make money through buying and selling cell phones.
Small businesses, online and off, as well as many entrepreneurial and tech-savy individuals are advertising more than ever to buy old, seemingly obsolete, and even broken cell phones.
The following questions arise:
What do they know and how do they know it?
How are they benefitting and monetizing with the most common and frequently used consumer electronic, the cell phone?
Consider this. The iPhone 4 sells in stores for $199. Why does it sell on eBay new for over $500? The same device when broken, whether due to water damage or a cracked screen, still sells on eBay for prices in the $300 range. This means a smartphone can be bought in stores, thrown on the ground, dropped in a sink full of water, and still sell for more than the cost of the device.
By no means is the iPhone the only valuable cellular device either. In fact, cell phones released years ago which seem ancient today still reel in high dollar amounts. Consider the Droid. Not the Droid 2, X, Incredible, nor the X2 or the Incredible 2 -- the original Droid. Years later, it's still selling for over $100!
ResellCells even provides readers with a spreadsheet of the market values of over 200 of the newest smartphones! That is, approximately what the devices are able to be sold for through third-party means such as Craigslist and eBay. To reflect changing values and new devices being released, the spreadsheet is updated monthly.
Now consider this. Approximately how many people own a cell phone? Compare this to the number of people who buy and sell cell phones. These numbers undoubtedly prove to be vastly different. This means a huge market share is available. ResellCells teaches readers how to take advantage and maximize the potential of this knowledge.
What happens when a friend, family member, co-worker, or friend's friend breaks their phone, upgrades, or simply gets bored of their device? It gets thrown in the trash, drawer, or is used as a paperweight. If even $50 of profit could be obtained every time someone within an individual's network broke their phone or upgraded, the potential exists to make easy income. Throw social media in to the mix and all of a sudden profits continue to escalate.
Want to learn more? Visit ResellCells.com to watch a five minute, in-depth video with hands-on knowledge of how to start making money. Plus, ResellCells e-Book exceeding 15,000 words (50 pages!) provides readers with everything needed to start buying & selling cell phones.
So, ready to begin making money? All that is needed to start is a willingness to learn.
Visit http://www.ResellCells.com today.
###