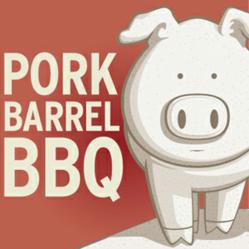 "Just like Reser's, Pork Barrel BBQ brings families together to enjoy great tasting food. Barbecue and potato salad are a match made in heaven." Teresa Carter, Reser's deli salad manager
Washington, DC (PRWEB) March 14, 2012
Pork Barrel BBQ, the nation's fastest-growing barbecue sauce company, announced today that their Pork Barrel BBQ Competition BBQ Team will be sponsored by Reser's during the 2012 competition BBQ season. Reser's, the leading North American provider of deli salads, fresh salads, side dishes and prepared foods, is sponsoring Pork Barrel BBQ and two additional top-rated competition BBQ teams to represent Reser's at festivals, cook-offs, and barbecue competitions across the country this year. Read Reser's official announcement here.
Pork Barrel BBQ's Competition BBQ Team, the reigning Grand Champions of the Safeway National Capital Barbecue Battle and winners of the 2011 Purdue National Chicken Championship, will serve as one of three national representatives for Reser's on the professional competition BBQ circuit. Other sponsored teams include Pellet Envy, the 2009 KCBS Team of the Year led by pitmaster Rod Gray, and Meat, Inc., winner of numerous People's Choice awards.
"Reser's is proud to sponsor Pork Barrel BBQ for the 2012 competitive season," said Teresa Carter, deli salad manager. "Just like Reser's, Pork Barrel BBQ brings families together to enjoy great tasting food. Barbecue and potato salad are a match made in heaven."
"We are honored to have Reser's as a sponsor of the Pork Barrel BBQ competition barbecue Team," said Heath Hall, president and pitmaster of Pork Barrel BBQ. "Whether we are smoking brisket at a contest or grilling steaks in our backyard for friends and family, we're graded on the quality of our finished product. Reser's has been receiving high marks for more than 60 years with their line of classic American sides which are made from scratch everyday using only the highest quality ingredients. We look forward to sharing the Reser's story with barbecue fans around the country this year."
Reser's and Pork Barrel BBQ share common origins – both companies were founded by entrepreneurs who started making quality foods from their home kitchens and found a way to turn their passions into brands preferred by millions of households across the country. Today, Reser's Fine Foods Inc. is recognized as one of the nation's premier manufacturers of high-quality refrigerated food items sold to both restaurants and supermarkets. Reser's remains a family owned and operated company that is dedicated to creating delicious, wholesome meals that nourish family ties and sustain family traditions.
Since founding Pork Barrel BBQ in 2009, Hall and Brett Thompson have become the barbecue industry's most-watched entrepreneurs. Widely recognized as the winning entrepreneurs from ABC's hit reality show Shark Tank, Hall and Thompson are known for their creative and innovative approaches to starting and growing a successful barbecue business. With accolades ranging from Men's Health Magazine declaring Pork Barrel BBQ's Original BBQ Sauce as one of the "125 Best Foods for Men" and the Washington Post's Jim Shahin proclaiming Hall the winner of the Golden Rib award for his "accomplishments in food, business, and do-goodism," the company continues to expand its barbecue-related offerings.
In 2011, Pork Barrel BBQ debuted a specialty BBQ-flavored peanut with FERIDIES, added Pork Barrel BBQ Mustard BBQ Sauce to their line of sauces, introduced the world's first barbeque scented fragrance – Que, continued to earn top awards on the professional barbecue circuit, and opened the first Pork Barrel BBQ Restaurant in the Del Ray neighborhood of Alexandria, Virginia. In the first quarter of 2012, the company launched Pork Barrel BBQ Carolina Vinegar Sauce and had an update on their success on ABC's Shark Tank.
Reser's products can be found at Giant, Safeway, Food Lion, Save-A-Lot and Wegman's in the Washington, DC area.
For more information about Pork Barrel BBQ, visit http://www.porkbarrelbbq.com and read about their latest updates and adventures on Facebook, Twitter (@porkbarrelbbq) and the company's blog.
About Pork Barrel BBQ
Pork Barrel BBQ was founded in December 2008 during the peak of the economic crisis to prove that a company not owned or operated by the federal government could succeed, and that if you had a good idea, it was still possible to grab a piece of the American Dream. Pork Barrel BBQ founders, Heath Hall and Brett Thompson, ran the company out of the basement of their houses, selling their award winning BBQ products one bottle at a time. In less than one year, their Pork Barrel BBQ Sauces and Spice Rub were carried in over 1,000 stores in 40 states. Throughout their journey, they have stayed true to their mission – to unite the nation through the great tradition of BBQ, and bring bipartisan flavor to your next meal. The Pork Barrel BBQ Competition BBQ Team entered its first contest, The Safeway National Capital Barbecue Battle, in June 2009, and walked away with two trophies – Second Place in the "Nations Best BBQ Sauce Contest" and Fourth Place for their pulled pork in the Memphis In May portion of the contest. Since then, the team has won multiple awards, including the 2011 Perdue National Chicken Championship, the Safeway National Capital Barbecue Battle in 2011, the "Chinet People's Choice" award for best BBQ sauce in 2010 and other notable Memphis in May and Kansas City Barbecue Society BBQ competition accolades as well as having their Pork Barrel BBQ Original BBQ Sauce named Best Sauce in America and one of "The 125 Best Foods for Men" by Men's Health Magazine in November 2010. For more information, visit http://www.PorkBarrelBBQ.com or follow Pork Barrel BBQ on Facebook.com/porkbarrelbbq and Twitter @porkbarrelbbq.
About Reser's
Oregon-based Reser's is the leading North American provider of deli salads, fresh salads, side dishes and prepared foods. Founded in 1950 by Earl and Mildred Reser, the company remains privately owned and operated and committed to providing delicious foods for the supermarket and food service industries. Reser's employs more than 4,000 people in nearly 20 facilities in the U.S. and Canada. For more information, visit http://www.resers.com.
###