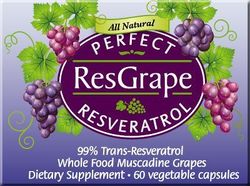 The fact that the Perfect ResGrape Resveratrol has now been tested and confirmed to have an ORAC of over 7,200 is truly incredible
New York, NY (Vocus) December 8, 2009
New Resveratrol Supplements seem to come out on almost a weekly basis. Consumers have to navigate through a series of marketing claims to try to determine which resveratrol supplements are of high quality and deliver the nutrients and antioxidants that they desire. Life for consumers just got a lot easier as Perfect ResGrape Resveratrol has published ORAC testing on their finished product and the results are very impressive.
Resveratrol (or Trans-Resveratrol) is a polyphenol that is found in red grapes and muscadine grapes. Resveratrol has become the subject of great interest because of its ability to mimic calorie restriction and trigger the release of Sirtuin 1 (SIRT1). The reason this is so significant is that it is believed that SIRT1 plays a role in slowing the process of aging and disease. Resveratrol has been featured on CBS News 60 Minutes, the New York Times, ABC News, Oprah and countless other media organizations.
Resveratrol is actually made up of two isomers - Trans-Resveratrol and Cis-Resveratrol. Numerous studies have shown that Trans-Resveratrol is stable and easily absorbed by the human body. CIS-Resveratrol is not stable and not easily absorbed, therefore it is actually the Trans-Resveratrol isomer that consumers want to look for in a Resveratrol supplement.
In order to measure the antioxidant levels of a supplement, a ORAC (Oxygen Radical Absorbance Capacity) assay can be performed. ORAC measures the antioxidant capacity, with the higher the number the more antioxidant capacity of the supplement being tested. The USDA recommends we consume 3,000 to 5,000 ORAC units daily. In truth, 80% of the population is consuming less than 1,000 ORAC units a day.
"The fact that the Perfect ResGrape Resveratrol has now been tested and confirmed to have an ORAC of over 7,200 is truly incredible" states Bob Peters, Director of Communications for PowerSupplements.Com . "Even more amazing is that the antioxidants are coming exclusively from muscadine grapes and resveratrol – they are not spiking the product. The Perfect ResGrape is a pure product with an off the charts antioxidant level."
Very few supplement companies do ORAC testing on their finished product. You will see ORAC tests for the raw ingredients that went into a supplement, but rarely do you see tests after the supplement was completed. This is very important as nutrients and antioxidants can be lost in the processing of the ingredients. The Perfect ResGrape Resveratrol was tested after it was encapsulated and bottled. In addition, the ORAC testing was performed by industry leading Brunswick Labs.
Learn More About the Perfect ResGrape Resveratrol and Muscadine Supplement
Peters concludes. "There has been a lot of debate about potential Resveratrol health benefits, but before you can start talking about the benefits of resveratrol – you first need to make sure the supplement you are taking is pure and a potent source of Resveratrol. This ORAC testing on the Perfect ResGrape Resveratrol, confirms that the ResGrape is an excellent source of antioxidants."
About Power Supplements, LLC:
Power Supplements, LLC does research regarding food, health, supplements and diet. PowerSupplements reviews clinical studies and research to locate supplements and foods that are proven to be effective with real science.
Contact:
Bob Peters, Director of Communications
PowerSupplements, LLC
646-827-9222
###