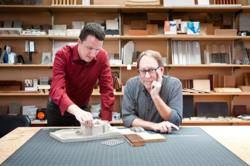 In our case, since the first of the year, we have seen a sharp increase in client interest in remodeling for both commercial and residential projects, which has lead to numerous signed contracts.
San Francisco, CA (Vocus/PRWEB) March 01, 2011
The construction industry has been desolate during the past few years, but recently John Winder of Winder Gibson Architects in San Francisco has noticed a spike in business at small architecture firms, which has lead to an increase in work for small contractors. Winder attributes the rise in demand to a resurgence of commercial, residential and kitchen remodeling projects in San Francisco.
"In our case, since the first of the year, we have seen a sharp increase in client interest in remodeling for both commercial and residential projects, which has lead to numerous signed contracts," said Winder. He noted that Winder Gibson has already signed contracts for four significant house remodels and two commercial remodels, whereas at this point in 2010, the firm had yet to sign up their first significant house remodel. The increase in business has even led to the prospect of hiring more architects within the firm to catch up with the newfound demand.
This is good news for the San Francisco construction industry, which has been suffering through the recession. "When architecture firms start getting busy, then you can reasonably predict that an increase in construction activity will follow."
Winder explains that an uptick in business at architecture firms has a ripple effect throughout the construction industry and related fields. Each contract will likely involve "a general contractor's steady crew of 3-5 people, sub-contractors of 6-10 workers and additional workers sporadically throughout the schedule of at least 10 more people. Then project out from there the contractor's material suppliers, accounting back up for all involved, insurance brokers for all involved businesses, since their coverage is always by project, etc."
Other firms confirm that they are also seeing a rise in interest and demand for new construction projects. "We have noticed a definite increase in the number of new inquiries for our services, as well as, actual signed contracts for new projects, since December of 2010," said Rodrigo Santos, S.E., Principal Engineer at Santos & Urrutia Structural Engineers.
Architect Cary Bernstein agrees, stating, "We have received a number of calls for residential & commercial projects in San Francisco and outside the city."
These indicators have led Winder to a heartening conclusion: "After a long restless night, the dawn may finally be near."
Customers seeking commercial and residential remodeling, kitchen remodeling and interior design in San Francisco from Winder Gibson Architects go to them because of their quality and diversity. Their projects are never bound by a specific style or material palette; rather, they demonstrate attention to detail, clean crisp lines, sustainability and function.
"We approach every design with an appreciation for the poetic experience of architecture," said Winder. "Such as a hand gliding down a mahogany handrail or the afternoon light captured through a certain window."
For more information about commercial and residential remodeling projects with Winder Gibson Architects, contact John Winder at (415) 692-0874 X4002. To see photographs of John Winder and Geoff Gibson's projects, including the recently completed Market Street penthouse for YouTube co-founder Steve Chen, visit their website http://www.archsf.com.
About Winder Gibson Architects
Winder Gibson is a commercial and residential architect in San Francisco that specializes in commercial and residential remodeling and architecture in San Francisco and beyond. Both John Winder and Geoff Gibson have worked on a variety of projects, including exterior and interior design for new construction, additions, roof decks, bathroom and kitchen remodeling, and the renovation of historical buildings. Due to their experience and reputation, Winder Gibson's clients frequently include other design professionals.
###