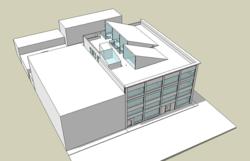 We've had our office in Western SOMA for over ten years now.
San Francisco, CA (Vocus/PRWEB) April 08, 2011
The Western SOMA district of San Francisco is undergoing a certain renaissance these days. As 'Downtown' jumped Market Street and worked its way into the eastern end of SOMA, with skyscrapers of new office space and high-end condos, there has been a ripple effect felt at the west side of the neighborhood, where it abuts Potrero Hill, the Mission and Hayes Valley.
Winder Gibson Architects is excited to be one of the main players in this rejuvenation. They are currently working on several exciting projects in the area, both commercial and residential. Some are at the very beginning of schematic design, others are in permit and some are under construction. Recent and ongoing projects include a nightclub, a meditation center, offices, new residential lofts and more.
"We've had our office in Western SOMA for over ten years now," says John Winder. "We originally set up shop here to be close to the Building Department and we've watched the area come into its own over the years. It's great to be part of the scene."
Recent changes are not so much about gentrification as they are about bringing a new vitality to the area, says Winder. With the addition of new residential units in the form of lofts, market rate and subsidized condos and even senior housing, the ability to support a healthy mix of businesses has increased. Exciting new restaurants such as Citizen Band and Radius are popping up, along with galleries and boutiques.
In the beginning stages of looking for a space to start a local food venue and collective commercial kitchen, Caterina Rindi of Mo Foods says, "I'm seriously considering the west end of SOMA. There's a real feeling of possibility in the area, mixed with a rich history."
The San Francisco Planning Department recently finished a long-term study of the area, though the adoption timeline of their plan is uncertain at this point. Lease rates are still relatively affordable, but, even more so, purchase prices on the district's ubiquitous commercial buildings are extremely low, sometimes for little more than $150 per square foot.
"Our clients are finding that, given the low cost of purchase in Western SOMA, they have a lot more headroom to imagine exciting and ambitious projects such as adding floors of new residential units or other significant upgrades," notes Geoff Gibson.
Navigating the marketplace and the complex permit process takes a knowledgeable architect with some feet-on-the-ground experience in the neighborhood. That's why so many clients are turning to Winder Gibson Architects.
For more information about the growth and changes underway in Western SOMA, or for any services offered by Winder Gibson Architects, contact John Winder at (415) 692-0874 X4002. To see photographs of John Winder and Geoff Gibson's projects, including the recently completed Market Street penthouse for YouTube co-founder Steve Chen, visit their website http://www.archsf.com.
About Winder Gibson Architects
Winder Gibson is a commercial and residential architect in San Francisco that specializes in commercial and residential remodeling and architecture in San Francisco and beyond. Both John Winder and Geoff Gibson have worked on a variety of projects, including exterior and interior design for new construction, additions, roof decks, bathroom and kitchen remodeling, and the renovation of historical buildings. Due to their experience and reputation, Winder Gibson's clients frequently include other design professionals.
###