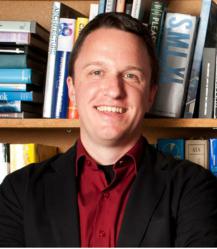 I feel privileged to teach architecture students at the Academy of Art University
San Francisco, CA (PRWEB) September 22, 2011
San Francisco architect Geoff Gibson returns to teach ARH 150: Design Studio 1: Spatial Ordering and Hybrid Program this fall at the Academy of Art University in San Francisco. This intensive, foundational design class teaches students fundamental drafting, model building, space and form design, and analysis of the built environment. All of these elements culminate in the design of a hybrid dwelling for two clients.
"I feel privileged to teach architecture students at the Academy of Art University," said Geoff Gibson. "Not only will I get to inspire the next generation of architects, they will also inspire me."
Gibson teaches the core skills he learned from his personal experiences, years of practice, and education at McGill University. Teaching at the Academy of Art University also keeps him connected with the architectural and design communities and in touch with the latest aesthetic and technical innovations and trends.
For more information, please call Winder Gibson Architects (415) 692-0874 or visit them on the web at http://www.archsf.com.
About Winder Gibson Architects
Winder Gibson is an architectural firm in San Francisco that specializes in commercial, residential, and public-art-related architecture in San Francisco and beyond. Both John Winder and Geoff Gibson have worked on a variety of projects, including exterior and interior design for new construction, additions, roof decks, bathroom and kitchen remodeling, and the renovation of historical buildings. Due to their experience and reputation, Winder Gibson's clients frequently include other design professionals.
The rise of Percentage for Art public grant programs, which mandate a percentage of significant development project budgets go to fund public art, have increased the number of large art installation opportunities for collaborations between artists and architects like Winder Gibson. The firm's most current art projects are located at the new Sacramento Airport Terminal, new Richmond BART Garage, and the upcoming Chinatown Station for the new Central Subway.
###