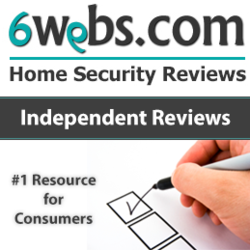 6Webs.com is the number one resource for unbiased home security systems reviews.
Seattle, WA (PRWEB) February 14, 2013
6Webs.com has helped thousands of home security shoppers pick the best residential security system for their families. 6Webs.com recently finished annual rankings of the top home security monitoring companies in the nation and published them on their website. Focused on delivering independent information to consumers, the leading home security system reviews site is now publishing the Top 3 Tips to Purchase the Best Residential Security System.
Tim Smythe, the senior editor for 6Webs.com stated, "One of the goals at 6Webs.com is to educate consumers; to help them with not only product and services comparisons but with educational information as well. As with any purchase the more educated a consumer becomes the better the decision is going to be. The top 3 tips to purchase the best residential security system are just some of the things a consumer should think about before purchasing a home security system."
For those consumers who are interested in viewing the full comparison data and detailed reviews of the nation's best home security companies can visit:
http://www.6Webs.com/best-home-security-systems/.
TIP #1: Research the Home Security Company's Better Business Bureau rating
Any business that provides a service should be accredited with the Better Business Bureau. 6Webs.com lists all of the home security company's ratings on their online comparisons. These ratings are on a scale of A to F with A being the best.
TIP #2: Read Online Reviews and Customer Reviews
Consumers nowadays research everything because it is so easy. Customers like to share their feedback so it is easy to find reviews about a company online. Be sure to look at both editorial reviews like on 6Webs.com as well as ask friends and family if they have experience with any of the companies that are being considered. When reading home security system reviews be sure that they are independent and unbiased like the reviews on 6Webs.com.
TIP #3: Speak to Several Home Security Companies
It's recommended to speak to at least two contractors before having any work performed around the home. The same goes for home security services. The best way to see how a company is with their customers is to get them on the phone and ask them questions. Are they happy and helpful in providing information? Call at least to home security companies.
About 6Webs.com
6Webs.com provides annual reviews of the leading home security system companies in the nation. Consumers can quickly compare multiple home security providers on the 6Webs.com website to select the best home security system for their family.