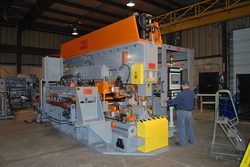 Bedford, OH (PRWEB) March 17, 2010
Guild International, Inc. has completed the manufacture of a resistance seam welder, with a 25KW Induction Annealer for the latest grades of automotive steel. This welding machine is being installed in an existing heat treat line, which is being upgraded. The steel grades include AHSS, UHSS, and High Strength grades of steel. The welding machine is for strip size from 0.5-2.3mm thick and up to 1525mm wide.
An entry preloader centers and clamps the new coil end while the line is running to insure a very fast time cycle.
The Induction Annealer head is positioned after the welding wheels and before the planish rolls. The Annealer will reheat the weld zone to restore ductility to the weld area. The welding, annealing and roll planishing all occur in one pass to insure a very fast weld cycle.
The improved grades of steel present additional challenges to the existing welding technologies, which the Induction Annealer will help solve.
Guild International, inc. who has just celebrated its 51 year anniversary has extensive experience in coil joining for carbon steel, stainless steel, silicon steel and other special alloys
Guild International, Inc.
http://www.guildint.com
Guild International, Inc
7273 Division Street
Bedford, OH 44146 USA
+1.440.232.5887
sales(at)guildint(dot)com
###