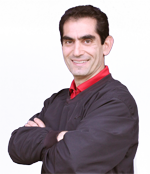 80% of your results come from 20% essence of exercise.
San Diego, CA (PRWEB) May 23, 2012
X5 Fitness, a private personal training studio in San Diego, CA releases Back to Basics Resistance Training Exercise videos. Back to basics videos teach individuals to first recognize what is effective in their resistance training. And then to focus on the effective part of the exercise to improve results safely and in less time.
"The need for an emotional variety often competes with the need for a consistent and disciplined approach to exercise," according to Vishy Dadsetan, owner of X5 Fitness. Dadsetan says, "In search for an emotional variety, we need to remember that our bodies have very simple responses to specific exercises. These simple responses over time bring safe and long lasting results. Once you remove all the marketing hype from exercise programs, the most basic and the most effective essence of exercise is left."
X5 Fitness personal training five principles are designed to increase your self-awareness and your awareness in resistance training exercises by giving you verifiable exercises you could test within a few minutes. X5 principles then provide you with a process to help you express this new awareness in ways that brings you better results in less time.
"There's a big difference between activities and actions," according to Vishy Dadsetan. "Activities do not have a foundation; they are arbitrary; they do not have a learning curve, because you do not need to learn anything, they hold you in endless cycles of effort and frustration that may or may not produce results. Actions, on the other hand, have a strong foundation; they are systematic; they have a learning curve, because you need to become aware of how your body works, they help you break out of the cycles that hold you back, and they always produce results."
X5Fitness.com Back To Basics Resistance Training Exercise Videos take you through six effective steps that account for most of your results.
For free online workout tips on the Back To Basics Resistance Training Exercises visit X5fitness.com or call toll-free at (877) 348-6873. Limited spots are available in X5 Fitness private San Diego Personal Training facility.
About X5 Fitness
Vishy Dadsetan founded X5 Fitness in 2010 to condense over 30 years of spiritual, mental, emotional and physical experience into a step-by-step integrated fitness and weight loss process.