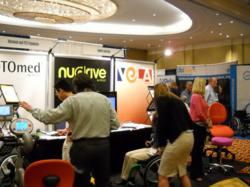 This conference offers something for everyone, and is a great place to develop relationships with others who share your passion, and learn about new and upcoming technologies - Alisa Brownlee, ALS (Lou Geherig's Disease) Association.
Arlington, VA (PRWEB) March 13, 2013
Covering almost every area of assistive technology solutions for people with disabilities, the annual RESNA (Rehabilitation Engineering & Assistive Technology Society of North America) conference will take place June 22-24, 2013 at the Hyatt Regency hotel in Bellevue, WA, just nine miles from downtown Seattle. The jam-packed three-day conference features:

A large exhibit hall, open for free to the public on June 22 and 23, with the latest assistive technology products in mobility, communications, computer access, environmental accommodations, and more.
Over 40 workshops on seating and mobility, alternative and augmentative communications, cognition and sensory loss, computer access, job accommodations, robotics, outcomes and measurements, and public policy.
A Developer's Forum where entrepreneurs can present ideas-in-progress to an audience of experienced professionals who create, develop, and customize technology solutions for people with disabilities.
A conference track for undergraduate and graduate students considering careers in assistive technology; students who attend will receive a free, one-year membership to RESNA.
Opening keynote speaker Graham Pullin, internationally-known designer and author of "Design Meets Disability" (MIT Press).
Platform sessions and poster presentations featuring the latest in assistive technology research.
International student design competition, with cash prizes available for top designs.
Joint sessions on June 24, offered in partnership with the International Conference on Rehabilitation Robotics (ICORR). RESNA and ICORR are also offering a discounted joint registration for those wishing to attend both conferences.
The conference program is available on the web at http://www.resna.org/conference/program. Conference attendees include rehabilitation engineers, assistive technology specialists, occupational and physical therapists, suppliers and manufacturers, vocational rehabilitation professionals, educators, researchers, state assistive technology program directors, consumers, and students.
Prior to the general conference, RESNA will host two days of pre-conference instructional courses. The popular, two-day "Fundamentals in Assistive Technology" course is June 20 and June 21. A full slate of all-day and half –day instructional courses are scheduled for June 21. All courses will be at the Hyatt Regency Bellevue (900 Bellevue Way NE, Bellevue, WA 98004). RESNA is providing continuing education units for the courses and conference.
"The RESNA conference is unique because it covers practically all areas of assistive technology," says Alisa Brownlee, ATP, ALS (Lou Gehrig's Disease) Association and RESNA Conference Chair. "It offers something for everyone, and is a great place to develop relationships with others who share your passion, exchange ideas, and learn about new and upcoming technologies."
"RESNA strives to bridge the gap between research and practical, in-the-trenches applications," says Alex Mihailidis, PhD, P.Eng, who is President of RESNA and with the University of Toronto and Toronto Rehab Institute. "This conference always turns out to be a catalyst for new technologies and new ways of doing things, and people come away reinvigorated and inspired."
For more information, visit http://www.resna.org.