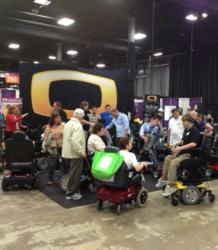 The RESNA Exhibit Hall is a great opportunity to see a wide range of technologies for people with disabilities all in one place, said Andrea Van Hook, Communications and Marketing Manager for RESNA.
Bellevue, WA (PRWEB) June 06, 2013
Leading manufacturers and suppliers of technology solutions for people with disabilities will be exhibiting their latest products at the Hyatt Regency Bellevue in Bellevue, WA, the weekend of June 22-23. The exhibit hall is free and open to the public from 9:45am to 5pm each day.
The exhibit hall is an important part of the annual conference for RESNA, the Rehabilitation Engineering and Assistive Technology Society of North America. Approximately 500 assistive technology professionals are expected at the conference, which will also feature internationally known speakers, over 40 workshop sessions, instructional courses, poster sessions, and research presentations. RESNA is the premier professional organization for people who create, develop, and adapt technologies for people with disabilities.
Products on display will include the latest in wheelchairs and power mobility; seating systems; joysticks, controls and switches; augmentative and alternative communication devices; eyegaze technologies; alternative showers and tubs; home devices; computer and software accessibility; and much more.
Companies include Quantum, Microsoft, Active Controls, Invacare, Permobil, Prairie Seating Corporation, Blue Sky Designs, Eyetech Digital Systems, LC Technologies, Magitek, Morph Wheels by Maddak, MOTOmed Movement Therapy, REHADapt North America, Restorative Therapies, Inc., RSLSteeper, Saltillo Corporation, Shower Buddy LLC, Tilite, Tobii ATI, and VELA/THEVO by Thomas Hilfen.
Several university-based research centers will also have booths with information on the latest research in augmentative and alternative communication, cognitive technologies, recreation technologies, and vision impairment. In addition, service-oriented organizations for professionals and people with disabilities will be on hand, such as Disability Rights of Washington and the National AgrAbility Project, which work with farmers and agricultural workers with disabilities.
Members of the public are encouraged to attend.
For a full listing of exhibitors and links to their websites, please click here.