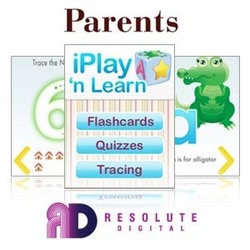 New York, NY (PRWEB) October 1, 2009
Parents.com, a leading site in the Meredith Women's Network, today released iPlay 'n Learn, an iPhone Application for children - designed and developed by Resolute Digital, LLC. Resolute Digital is a premier website and mobile design and development, search engine marketing and social media agency based in the Greater New York area.
Resolute Digital designed and developed iPlay 'n LearnTM as a knowledge-based application that can be utilized by children and parents together. Children can enjoy multiple levels of age-appropriate interactivity ranging from simple flash cards to fun quizzes to tracing programs. Each level allows children to interact with the screen by pressing buttons, selecting objects, or tracing letters, numbers, colors or shapes. The application is filled with positive reinforcement through audio and visual messages and animations.
"This application represents Resolute Digital's entry into a category we feel extremely bullish on - mobile websites and applications. We couldn't be happier to partner with Parents.com on this premier entry into iPhone/ mobile design and development," states Resolute Digital managing partner, Brian McNamee.
Resolute has also built websites, web-based applications, social media-based widgets, and content management systems for other sites in the Meredith Women's Network.
The iPlay 'n Learn application is available for download on the iPhone or iPod Touch starting today, for a limited-time introductory price of $0.99. Customers can purchase it from the iTunes store in the App Store by clicking here.
Resolute Digital delivers integrated creative, technical, media and website analytics solutions for large and small business. Vertical markets for which Resolute has deep practical understanding are publishing, consumer electronics, social networks, pharmaceutical goods and health services, consumer products, financial services, and telecommunications.
Resolute Digital is based in the Greater New York area. For more information please visit http://resoluted.com.
Contact:
Jarod Caporino
Managing Partner
Resolute Digital, LLC
(646) 822-1296 ext. 702
###