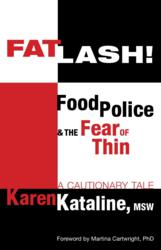 Fad diets can be as tempting and addictive as chocolate cake.
Denver, CO (PRWEB) December 27, 2012
Extreme diets often lead to binge eating and to a backlash against feelings of deprivation and the social pressure to be thin. That's the conclusion of Karen Kataline, MSW, whose new book, FATLASH! Food Police & the Fear of Thin, details her experience in child beauty pageants and being placed on severely restrictive diets.
Nearly half of all Americans will make at least one resolution for the New Year, but most will have abandoned it before Washington's birthday. In the case of the most popular resolution, to lose weight, "Fad diets and the next "miracle cure for obesity" can be as tempting and addictive as chocolate cake," Kataline says, "but they are often a setup for failure. She sees nothing wrong with personal intentions to lose weight, but says that resolutions which include the promise to avoid "dietary deprivation" are likely to improve long term results.
Martina Cartwright, PhD., RD is a registered dietition who has written the foreword for FATLASH. She adds that having realistic goals and honestly assessing one's readiness for change can dramatically increase the odds for success. She has outlined her recommendations in a piece for Ideafit.com entitled, Realistic Resolutions
Cartwright and Kataline will team up for a series of speaking engagements on body image, child beauty pageants and food restriction. Both oppose food bans and forced dieting as a means of inducing people to lose weight. "We know that a high degree of personal commitment is required for any lasting change. Attempts to control what people eat through food bans and restrictions tends to discourage the very individual responsibility and personal commitment necessary for long-term success." Kataline said.
Karen Kataline, MSW, is the author of FATLASH! Food Police & the Fear of Thin -A Cautionary Tale. She received her master's degree from Columbia University and has practiced in a variety of settings. She has been an adjunct professor at the New School for Social Research, Parsons School of Design in New York, New Jersey's Montclair State College among others. Fatlash! is her first book.
Martina Cartwright, Ph.D, RD., wrote the foreword for Fatlash! She is a registered dietitian with a Ph.D. in Nutritional Science and Biomolecular Chemistry from the University of Wisconsin-Madison. She has written extensively about child pageants and eating disorders and has coined the term, "Princess by Proxy."