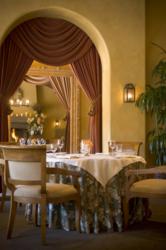 If your eyes are closed, you should know what you are eating
Carmel, CA (PRWEB) December 03, 2011
Chef Cal Stamenov announces they will be hosting their indulgent 15th Annual Truffle Dinner in Marinus Restaurant at Monterey's luxury hotel, Bernardus Lodge.
Chef Cal Stamenov is the creator of the award-winning California Natural cuisine at Monterey's boutique hotel, Bernardus Lodge's signature restaurant Marinus. Cal's philosophy is built on the superiority of handcrafted, artisanal products and the common sense of glorifying food when its flavor is at its peak. Chef Cal describes this principle as, "If your eyes are closed, you should know what you are eating." Cal looks forward to the parade of products that become available throughout the year, each in its turn with its moment of glory. To celebrate the long anticipated arrival of truffle season, Cal hosts an evening of culinary magnitude and allows his inspiration to combine the local ingredients from the Central Coast with the rare diamonds of Italy & France.
Chef Cal Stamenov will be welcoming Guest Chef Levi Mezick of Restaurant 1833, located in the historic Stokes adobe in Monterey. His impressive career path includes positions as Sous chef at Daniel and Executive Sous Chef at Café Boulud with celebrity chef Daniel Boulud, Oceana Restaurant and Thomas Keller's Per Se, and alongside Chef Michel Richard in at Michel at The Ritz-Carlton, Tysons Corner.
Past Truffle Dinner guest chefs include; Chef Stéphane Léger, of Le Chassagne, from
Chassagne Montrachet, France, David Kinch of Manresa in Los Gatos; Traci Des Jardin of Jardinière in San Francisco Nancy Oakes & Pamela Mazzola of Boulevard Restaurant, San Francisco; Hiro Sone & Lissa Doumani of Terra, Yountville; and Douglas Keane of Cyrus, Healdsburg.
The event will be held Friday, December 9th, 2011 at 6:30 p.m, and a cocktail reception featuring a prestigious Cuvee Champagne and Sobieski-Black Truffle Martini and 7:00 p.m: Cocktails are followed by a six-course chef's tasting menu and a once in a lifetime culinary experience.
The Truffle Dinner will be held at the Monterey resort hotel in the Marinus Restaurant at Bernardus Lodge located at 415 Carmel Valley Road Carmel Valley, CA 93924. The price for the dinner is $500.00 per person, plus tax and gratuity. Ask about special room rates available for Guests experiencing the Truffle dinner.
For more information, please contact, Sue Dreyer, Director of Sales & Marketing at Bernardus Lodge (831) 658-3501, sdreyer(at)bernardus(dot)com or Gina Martin, Assistant to Chef Cal Stamenov, at Bernardus Lodge, (831) 658-3574 gmartin(at)bernardus(dot)com
###