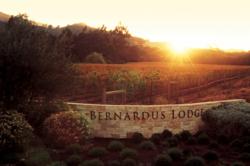 We are proud to welcome Mark to the position of wine director
Carmel, CA (PRWEB) October 12, 2011
Being in the heart of wine country, it is always important for Monterey's luxury hotel, the Bernardus Lodge to have the very best wine selection possible. This is why the luxury hotel turned to Mark Buzan to be their wine director. Mark has been on the job for just over four months now and he brings with him a wealth of experience within the wine industry.
He began his career as a sommelier at the Phoenician Resort in Scottsdale, Arizona where he quickly learned the art of fine wine service. From there his career launched as he steadily took on wine director positions at some of the most notable resorts throughout Arizona, such as The Boulders Resort, L'Auberge de Sedona, and The Enchantment Resort.
While living in Sedona, Mark made the decision to move to California to take on the position of wine director at the Highlands Inn in Carmel. While at that establishment, Mark served as the wine director for the 21st Annual Masters of Food and Wine. He quickly embraced this opportunity and dove head first into the California wine culture, quickly becoming a fixture in the wine event world.
Mark served as the founding wine director for Pebble Beach Food and Wine where he directly worked with more than 300 wineries. He also annually serves as the lead Wine Captain for the Wine Spectator New York Wine Experience. Mark can also be found providing wine service and wine education as a guest sommelier for a variety of wine events and serving on the Board of Directors for the annual Big Sur Food and Wine. Mark also utilizes his wine knowledge to serve as a moderator, wine panel participant, public speaker, and wine educator. He is a certified member of the American Chapter of the Court of Master Sommeliers.
"We are proud to welcome Mark to the position of wine director," says Sue Dreyer of Monterey's resort hotel, Bernardus Lodge. "His tremendous experience will continue the fine wine traditions set forth by Bernardus Lodge."
In his free time Mark enjoys college football and mountain biking. He resides in Carmel Valley with his wife Alicia and two children.
For information and/or reservations, please call the Bernardus Lodge at (888) 648-9463 or visit them on the web at http://www.bernardus.com. They are located at 415 Carmel Valley Road in Carmel.
About Bernardus Lodge
Inspired by Bernardus Pon, creator of the Bernardus Winery and Vineyard, the Lodge is a Monterey boutique hotel and a resort hotel that combines the simple elegance of fine country living with the high quality of service and luxury amenities found in only the best European hotels. Here, in beautiful Monterey, discriminating travelers can experience the finest accommodations, cuisine, viticulture, spa services and recreational venues.
###