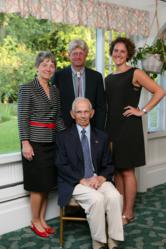 Sarah brings great enthusiasm and energy to her job as director of sales, and I'm delighted to welcome her home again.
Vergennes, Vermont (PRWEB) April 17, 2013
Leading Vermont resort of over 127 years, Basin Harbor Club, announces the addition of fifth generation host and director of sales, Sarah Morris to the family business.
"Sarah brings great enthusiasm and energy to her job as director of sales, and I'm delighted to welcome her home again," says Pennie Beach, fourth generation host. Morris brings over 15 years of experience in the hospitality industry, as well as fond memories and a penchant for growing within the family business.
"I grew up visiting resorts and hotels all across the country with through my mother's affiliations in the industry but it wasn't until I left to attend Cornell's Hotel School that I realized the magic of Basin Harbor," says Morris and fifth generation Beach Family. "Nearly a decade later, after learning what-to- and what-not-to-do from several different hospitality properties, I returned home and took my place among not only my mom and uncle but also the extended Basin Harbor "family" of long-time employees and guests. It is without a doubt the most rewarding and fulfilling position I've held in 15 years of hospitality and it's exciting to know I'm just getting started."
Basin Harbor still carries many endearing traditions forward such as coat & tie for gentlemen in one of the dining rooms, daily kids program (created for Sarah and her brother as toddlers) as well as no televisions in guest rooms. The New England family resort is considered a world of its own as its located seven miles from the nearest city and bordered by Vermont's Button Bay State Park, Lake Champlain and New York's Adirondack State Park.
To connect with Basin Harbor Club, "Like" them on Facebook or follow them on Twitter (@BasinHarbor).
About Basin Harbor Club:
Basin Harbor Club was established in 1886 by Ardelia Beach and has remained family owned for 127 years. Today, guests are greeted by fourth generation hosts, Pennie Beach and Robert H. Beach, Jr. and fifth generation Sarah Morris, Director of Sales. Originally a 225-acre working farm catering to summer boarders, the resort has expanded to cover 700 acres on Lake Champlain, encompassing the main lodge, cottages, a 18-hole golf course, spectacular gardens, a 3,200 foot grass airstrip and serving food grown by Vermont farmers. For more information, please visit http://www.basinharbor.com or call 1-800-622-4000.