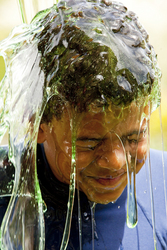 you can build all types of amenities but it would be impossible to duplicate what Starr Pass has, the Tucson Mountain Park.
Tucson, AZ (Vocus) May 18, 2010
This summer, take the ultimate family summer vacation with Nickelodeon Getaways at JW Marriott® Starr Pass Resort & Spa. The resort's wildly popular weekend getaway program offers extreme fun to both kids and kids-at-heart alike. Families will enjoy an exciting weekend filled with games, crafts, character meet & greets, Nickelodeon shows, and the chance to hang out with SpongeBob SquarePants and Dora the Explorer!
The Nickelodeon summer extravaganza kicks off with the Starr Pass Memorial Day Weekend Nickelodeon special. Guests can spend the holiday weekend chilling with their favorite Nickelodeon characters for just $199 per night. The rate includes a guest room, Character Brunch for two adults and two children, poolside Nickelodeon activities such as contests, sliming, trivia games, dive in movies and shows and a sleepover kit for each child (two maximum).
Nickelodeon Weekend Getaways at Starr Pass were designed and developed with the entire family in mind. The fun begins at check-in. Families will be greeted by a Nickelodeon Getaway Host who will review the upcoming activities during their stay. Parents and kids can experience character breakfasts with Dora the Explorer or SpongeBob SquarePants in the morning, and poolside entertainment later in the afternoon.
The mess hits the deck in Nickelodeon's signature interactive poolside game show where contestants can end up with a pie in the face, dance to music, play games and trivia, or even be on the receiving end of an iconic Nickelodeon sliming. Shows will begin at 1:30 and 3:30 p.m. Kids can even get Dora and SpongeBob's autograph! On Friday and Saturday nights, kids can enjoy a Nickelodeon Dive-In Movie while they slurp down a complimentary Slime Slushy at the Starr Pass pool area.
This year, celebrate your birthday with Dora and SpongeBob! The JW Marriott® Birthday Party Special includes food, non-alcoholic drinks and access to the pool all day long. In addition, those who book their party on Saturday are able to participate in the live Nick shows at no charge! The Birthday Party Special rate is available for $40 per person. Parties can be booked by calling (520) 791-6130.
Part of the resort's pool area includes the refreshing Starr Canyon River and Monsoon Falls Water Slide. One of Southern Arizona's most popular attractions, the slide stands 16 feet high, is 110 feet long and offers incredible 360° views of Tucson Mountain Park and the Tucson cityscape. The end of the slide links to the mouth of Starr Canyon River. Twenty-two fountain jets shower guests with a refreshing mist as they float along. It is a favorite amongst the resort's guests, especially while hanging out with Dora the Explorer and SpongeBob SquarePants.
The JW Marriott Starr Pass Resort & Spa Nickelodeon Getaway package includes a two-night stay, SpongeBob SquarePants or Dora The Explorer sleepover kit with pillowcase and Nickelodeon-themed gifts for the kids, and a character breakfast for two adults and two children! This exciting two-night package is offered through Labor Day for up to a family of four. Rates are available online.
In addition, seats to the Nickelodeon Character Brunch can be purchased for $35 per adult and $15 per child. Reservations are required.
For more 2010 Nickelodeon package rates, please visit http://www.jwmarriottstarrpass.com
About JW Marriott Starr Pass Resort & Spa
Having been named to Travel + Leisure World's Best Hotels Top 500 List two years running (2008, 2009), Starr Pass draws on the beauty of its mountainous location. The resort incorporates the natural desert as its landscape design theme. With 575 spacious guestrooms, 88,000 sq. ft. of meeting space, five restaurants, a 20,000 sq. ft. spa, four separate pools, a lazy river and water slide, an Arnold Palmer Signature golf facility consisting of 27 holes and practice facilities and 888 underground and covered parking spaces, the resort boasts of being not only the largest resort in southern Arizona but also the only true eco-resort in Tucson. This eco theme extends to its Primo restaurant that serves only organic and jet fresh fish, its Hashani Spa, which uses natural desert plant oils and its direct access to the Tucson Mountain Park for fabulous hiking and mountain biking trails. To quote Bill Marriott, "you can build all types of amenities but it would be impossible to duplicate what Starr Pass has, the Tucson Mountain Park." The JW Marriott Starr Pass Resort & Spa is located at 3800 W. Starr Pass and can be reached directly by calling (520) 792-3500. Please visit http://www.jwmarriottstarrpass.com.
###