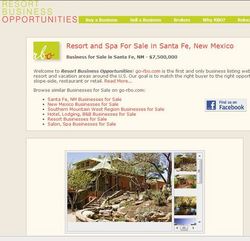 We have everything from a $15,000 gift shop in Mystic, Connecticut to a $10 million guest lodge in Santa Fe, New Mexico
Bend, Oregon (PRWEB) July 28, 2010
Resort Business Opportunities LLC (RBO) has recently added its 200th business for sale to its website go-rbo.com. The site now has business listings in 39 states and represents over 60 resort and vacation markets. "We have everything from a $15,000 gift shop for sale in Mystic, Connecticut to a $10 million guest lodge in Santa Fe, New Mexico," says CEO Brian Lantzy, "If you are looking for a campground for sale on a lake in Minnesota or a Florida beachfront restaurant, you can find it on our site."
"The response from business sellers in these markets has been fantastic," says Lantzy. In fact, the website is so unique that it was rated the best new startup for the month of June on Killerstartups.com. Every day Killerstartups reviews 30+ internet business ventures and then allows their users to vote on the one that they think is "killer." Go-rbo.com won the voting for the month by a wide margin. "Business brokers and individual sellers recognize that we are offering a one of a kind advertising venue. Ours is the only site that is specifically designed to help reach potential lifestyle business buyers around the nation."
The website is much more than just a business for sale listing service. RBO is a resort business community portal as well. Through their newsletter and blog they provide specific, relevant insight regarding the nuances of relocating to, living in, and running businesses in resort areas. "We are launching our blog in the coming days," says Lantzy, "and on it we will provide an 8 step plan to getting started in paradise and further develop the themes from our Relocating section. This information could not be found anywhere else, until now. We really want to help the resort business buyer realize their dream."
About RBO-
Go-rbo.com is dedicated exclusively to matching business buyers and sellers in the most exciting and desirable destinations around the United States. The founders of RBO reside in Bend, Oregon and have spent the majority of their lives living, working, and running businesses in resort towns around the U.S. (Florida, Delaware, Hawaii, California, Colorado and Oregon.) They understand that the primary reason that most people buy a business in a resort town is for the lifestyle.
# # #