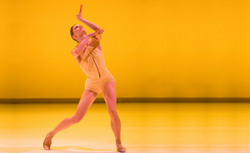 The Aspen Santa Fe Ballet is an important part of the fabric of the local culture in Aspen and we salute the community participation and creative programming the ASFB brings our town each winter
Aspen, Colorado (PRWEB) February 4, 2009
Each winter Aspen, Colorado is graced by the presence of one of the nation's most unique and talked about dance troupes, the Aspen Santa Fe Ballet (ASFB). The ASFB spends half the year in the deserts of Santa Fe, New Mexico and the winter months at home near the ski slopes in Aspen, Colorado.
Heading into a second decade of activity, the Aspen Santa Fe Ballet remains dedicated to inspiring a new generation of creative thinkers and artists. The Ballet is not only a nationally recognized dance company, but also serves as an educational outlet for the communities of both Aspen, Colorado and Santa Fe, New Mexico. Through classes in jazz, ballet and tap combined with open rehearsals and daily interaction with company members, the ASFB Outreach Program brings the arts off-stage and into the lives of over 250 students annually. This community activity also gave birth to the popular, award-winning Mexican folklore youth program Folklórico, offered in both locations.
ResortQuest Aspen offers a full selection of lodging deals and discounts in Aspen, Colorado just moments from the performances of the Aspen Santa Fe Ballet. Enjoy the best deals in Aspen and choose from condominiums and ski-in/ski-out vacation rental homes at the base of the mountain and throughout downtown Aspen and Snowmass. "The Aspen Santa Fe Ballet is an important part of the fabric of the local culture in Aspen and we salute the community participation and creative programming the ASFB brings our town each winter," says Katie Provot, Director of Sales and Marketing ResortQuest Aspen/Snowmass.
The 2009 Aspen Santa Fe Ballet program includes a stunning line-up of performances from every genre, including the Lar Lubovitch Dance Company, the Peking Acrobats, the premier of Twyla Tharp's masterpiece Sue's Leg and Complexions modern dance troupe. Says Clive Barnes of the New York Post, "It's a class act, a classical act, and an extraordinarily engaging act: it's the Aspen Santa Fe Ballet…the company has much of the pulsating energy of the old Joffrey Ballet in its New York City Center days."
Visitors to Aspen receive special lodging rates through ResortQuest. ResortQuest's More for your Money March promotion provides one free night for every two paid nights. For example, guests receive a free night on a three-night stay, two free nights on a six-night stay, or three free nights on a nine-night stay. Guests must mention booking code INT MYM and book no later than March 1, 2009. The promotion is valid for any stay between March 1 and March 31, 2009.
In additional to their downtown Aspen lodging options, ResortQuest Aspen/Snowmass also manages the Inn at Aspen, a full service conference and meeting resort, offering over 5,000 square feet of on-site meeting space, the Elkhorn Restaurant and bar, outdoor heated pool and hot tubs and 122 hotel rooms at the base of Buttermilk Mountain.
About ResortQuest:
ResortQuest, one of the nation's leading vacation rentals and hospitality and resort real estate companies, provides a one-stop resource for vacation bookings in North America's premier resort destinations. ResortQuest is the largest marketer and management company of vacation condominiums and home rentals in the United States, based on a portfolio of over 10,000 vacation rental properties. With the inclusion of Partner Affiliates in North and South America, the Caribbean and Europe, ResortQuest now offers over 50,000 vacation rentals choices in over 100 destinations world-wide. With over a billion dollars in sales, ResortQuest Real Estate is one of the nation's leading real estate companies focusing exclusively on resort properties, offering superior brokerage services in the country's premier beach, ski and golf destinations.
###