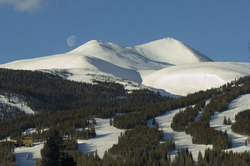 Breckenridge, CO (PRWEB) February 3, 2008
With a desire to restore a true open event to glory, Jon Olsson and Simon Dumont, two young freeski competitors currently considered some of the best in the world at their sport, are set to put on the North American Freeski Open in Breckenridge. February 20 - 24, 2008. In collaboration with rEvolution and Paul Mitchell, Jon and Simon are conjuring up a new format designed for fairness and creativity. The event will host Halfpipe and Slopestyle competitions for three days and with a strong prize purse, the competition should be fierce.
Olsson and Dumont designed the contest in a new format where the athletes were given more of a chance to show their skills. Rather than a traditional two-or-three run contest format, the open will consist of a jam session for half the day and then a judged run for each of the competitors in the afternoon. The jam format not only allows for the best skiers to advance, but it allows for pros and amateurs alike to ski the same top notch course as equals. Everyone is treated the same, making this a truly open event. Simon and Jon will be giving keys to those that they (and the judges) feel are worthy of moving on. Those chosen athletes will join a small cast of invited athletes in the finals, with a more traditional, three-run final to decide the winners.
The event is open to all athletes and registration is available online at openfreeski.com. The event entire event will air on FUEL TV, times to be announced. Event viewing is free and open to the public on the slopes at the Freeway Terrain Park at Peak 8 in Breckenridge.
ResortQuest Breckenridge Lodging offers a complete selection of vacation rentals and lodging packages in Breckenridge] and Keystone, Colorado, just steps from all the adventure the mountain resorts have to offer. Guests can choose from deluxe hotel suites, 1-4 bedroom condominium and luxurious private homes in ski-in/ski-out or downtown locations. For more information on ResortQuest Breckenridge and their wide selection of vacation rentals, visit ResortQuestBreckenridge.com.
ResortQuest, one of the nation's leading vacation rentals and resort real estate companies, provides a one-stop resource in North America's premier resort destinations, ResortQuest.com. ResortQuest is the largest marketer and management company of vacation condominiums and home rentals in the U.S. ResortQuest Real Estate is one of the nation's leading real estate companies focusing exclusively on resort properties, offering superior brokerage services in the country's premier beach, ski and golf destinations. For more information, visit ResortQuest.com.
###