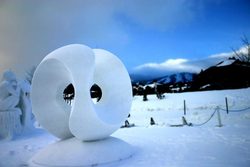 Breckenridge, Colorado (PRWEB) January 20, 2008
The snowy mountain town of Breckenridge, Colorado, is eagerly preparing for one of its most famed events of the season: The 18th Annual Budweiser Select International Snow Sculpture Championships. Starting January 22, teams from across the globe will converge in downtown Breckenridge where they prepare to carve stunning works of art from little more than a block of snow. ResortQuest Breckenridge offers a full selection of vacation rentals and lodging packages in both Breckenridge and Keystone, just steps from the event viewing plaza and downtown Breckenridge.
Guests interested in lodging for the competition are encouraged to contact Breckenridge vacation rentals. ResortQuest offers a complete selection of Breckenridge vacation rentals and lodging package in Breckenridge and Keystone, just steps from all the adventure the mountain resorts have to offer. Guests can choose from deluxe hotel suites, 1-4 bedroom condominium and luxurious private homes in ski-in/ski-out or downtown locations. For more information on ResortQuest Breckenridge and their wide selection of vacation rentals, visit ResortQuestBreckenridge.com
Each year Breckenridge plays host to this event, which draws teams from as far away as Mexico, Norway, Italy and Sweden. A total of 10 teams, representing 17 countries are on tap for this year's competition. Over the course of 5 days, thousands of spectators watch as blank canvases of snow are transformed into everything from whimsical bouquets of enormous flowers to thought-provoking abstract shapes. Rules limit the artists to the strict use of select hand tools and their own creativity and inspiration. No power tools or colorants are allowed.
On January 27, 2007, a panel of judges will award honors to the top four teams, based on the criteria of theme, style and technique. The spectators will then have their moment to speak, with the awards of People's Choice, Kid's Choice and Artist's Choice. A week-long viewing period follows the awards ceremony, with the final viewing commencing on February 4. For more information, visit GoBreck.com.
About ResortQuest
ResortQuest, one of the nation's leading vacation rental and resort real estate companies, provides a one-stop resource in North America's premier resort destinations, now including ResortQuest Myrtle Beach. ResortQuest is the largest marketer and management company of vacation condominiums and home rentals in the U.S. ResortQuest Real Estate is one of the nation's leading real estate companies focusing exclusively on resort properties, offering superior brokerage services in the country's premier beach, ski and golf destinations. For more information, visit ResortQuest.com.
###