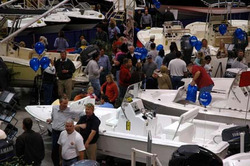 Charleston, South Carolina (PRWEB) December 28, 2007
Boating and fishing enthusiasts are expected to come out in record numbers for the 28th Annual Charleston Boat Show at the North Charleston Convention Center from January 25-27. Establishing itself as the premier boat show in South Carolina, the event features more than 90 boat lines, as well as the latest in marine accessories, products and services. Boats are displayed both inside and outside of the venue located at 5001 Coliseum Drive. Tickets are $9.00 at the door.
ResortQuest is offering visitors to Kiawah Island, Seabrook Island, Isle of Palms and Wild Dunes exciting and exclusive ways to save, all while staying in fully-equipped private homes, villas and cottages. The area offers miles of pristine beach, championship golf, tennis, biking, nature tours, shopping, dining, water-related activities and more. A program called ResortQuest Privileges offers special rates and discounts on activities, tours, dining and shopping from area venues.
About ResortQuest
ResortQuest, one of the nation's leading vacation rental and resort real estate companies, provides a one-stop resource in North America's premier resort destinations (ResortQuest.com). ResortQuest Charleston is the largest vacation rental company serving Charleston and the beach resort islands of Kiawah, Seabrook, Isle of Palms, Wild Dunes and Sullivan's Island. ResortQuest has offices located on Kiawah Island, Seabrook Island and Isle of Palms, South Carolina.
# # #