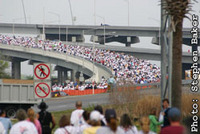 Charleston, SC (PRWEB) February 15, 2008
Over 38,000 people from around the world are expected to participate in the 2008 Cooper River Bridge Run/Walk event from April 3-5. The festival, designed to promote fitness, health and an improved quality of life, consists of a pre-race exposition on April 3 and 4, a Kids Run at Hampton Park on April 4, and the final 10K run/walk and post-race exposition on April 5. The bridge's signature diamond tower design adds to its distinction as North America's longest cable stay span. To participate in the race, log on to bridgerun.com/register.php.
ResortQuest is offering visitors to Kiawah Island, Seabrook Island, Isle of Palms and Wild Dunes exciting and exclusive ways to save, all while staying in fully-equipped private homes, villas and cottages. The area offers miles of pristine beach, championship golf, tennis, biking, nature tours, shopping, dining, water-related activities and more. A program called ResortQuest Privileges offers special rates and discounts on activities, tours, dining, and shopping from area venues.
About ResortQuest
ResortQuest, one of the nation's leading vacation rental and resort real estate companies, provides a one-stop resource in North America's premier resort destinations. ResortQuest Charleston is the largest vacation rental company serving Charleston and the beach resort islands of Kiawah, Seabrook, Isle of Palms, Wild Dunes and Sullivan's Island. ResortQuest has offices located on Kiawah Island, Seabrook Island and Isle of Palms, South Carolina.
###