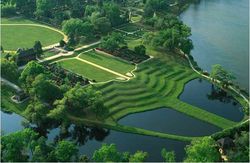 Charleston, SC (PRWEB) September 6, 2008
The Fourth Annual Charleston Garden Festival will take place October 17-20 at Middleton Place, a National Historic Landmark encompassing America's oldest landscaped gardens. This year's theme will be "Metamorphosis" - celebrating the preservation of the natural world through the lifecycle of change. Attendees can expect gardening demonstrations and lectures, panel discussions, horticultural tours, live jazz, food, family activities and a children's "fantasy" area. Guests are encouraged to picnic all day on the Greensward. Log on to charlestongardenfestival.org for ticket information.
Following the success of last year's environmentally-conscious event, festival organizers will continue with a Green theme this year. Participating food vendors are members of Slow Food USA (devoted to preserving traditional foodways and educating about food as a center of community), Lowcountry Local First and the Certified South Carolina Fresh program. Organic beer and wine will be sold and landscapers' garden exhibits will focus on green gardening aesthetics that minimize impact on the environment. The Festival Market will feature more than 40 local and national businesses with eco-friendly, fair trade and sustainable products on hand.
ResortQuest is offering visitors exclusive ways to save on Kiawah Island, Seabrook Island, and Isle of Palms vacation rentals, private homes, villas and cottages. The area offers miles of pristine beach, championship golf, tennis, biking, nature tours, shopping, dining, water-related activities and more. A program called ResortQuest Privileges offers special rates and discounts on activities, tours, dining, and shopping from area venues. Historic downtown Charleston is just a short drive away from the beaches. Call 1-866-253-3633 to find out about special discounts on Isle of Palms and Wild Dunes vacation rentals or lodging on Kiawah and Seabrook.
About ResortQuest
ResortQuest, one of the nation's leading vacation rental and resort real estate companies, provides a one-stop resource in North America's premier resort destinations. ResortQuest Charleston is the largest vacation rental company serving Charleston and the beach resort islands of Kiawah, Seabrook, Isle of Palms, Wild Dunes and Sullivan's Island. ResortQuest has offices located on Kiawah Island, Seabrook Island and Isle of Palms, South Carolina.
###