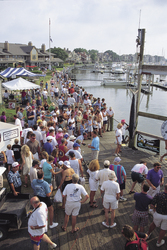 Charleston, SC (PRWEB) May 7, 2008
Charleston will host the next event in the 20th Annual Governor's Cup Billfish Tournament Series at the Charleston Harbor Resort and Marina from June 25-28. Participating boats will amass points for billfish landed or released and compete for three major awards: Outstanding Billfish, Outstanding Boat, and Outstanding Conservationist. Awards will also be given for outstanding tuna, dolphin and wahoo. Not to be left out, female and youth anglers will be recognized as well. The HMY/Viking Megadock Billfish Tournament will occur at the Charleston City Marina from July 9-12 and nearby Seabrook Island's Bohicket Marina Invitational Billfish Tournament will occur from July 23-26. For more information on the Series, log on to govcup.dnr.sc.gov/.
Now in its 20th year, the Governor's Cup Billfish Series is designed to promote South Carolina's billfishing tournament industry, increase coastal tourism and encourage the conservation of ocean pelagic (living in the ocean or open sea) fish species through the tag and release of billfish. Prior to the start of the series, less than ten percent of the state's billfish were released after being caught. South Carolina anglers, undoubtedly inspired by the message of conservation that the Series has fostered, now release over ninety percent of the billfish caught, contributing to the state's reputation as a world leader in marine fisheries conservation.
ResortQuest is offering visitors to Kiawah Island, Seabrook Island, Isle of Palms and Wild Dunes exciting and exclusive ways to save, all while staying in fully-equipped private homes, villas and cottages. The area offers miles of pristine beach, championship golf, tennis, biking, nature tours, shopping, dining, water-related activities and more. A program called ResortQuest Privileges offers special rates and discounts on activities, tours, dining, and shopping from area venues.
About ResortQuest
ResortQuest, one of the nation's leading vacation rental and resort real estate companies, provides a one-stop resource in North America's premier resort destinations. ResortQuest Charleston is the largest vacation rental company serving Charleston and the beach resort islands of Kiawah, Seabrook, Isle of Palms, Wild Dunes and Sullivan's Island. ResortQuest has offices located on Kiawah Island, Seabrook Island and Isle of Palms, South Carolina.
###