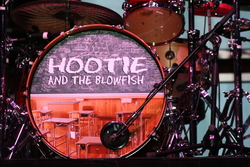 Only Want To Be With You
Charleston, SC (PRWEB) July 7, 2008
Two-time Grammy Award-winning Hootie and the Blowfish return to the Charleston area for their annual Homegrown Concert on Friday, August 15 at the Family Circle Magazine Stadium on Daniel Island. Concert-goers are encouraged to bring school supplies to the show which will be donated to local schools. Gates open at 6:00 p.m. and the concert begins at 8:00 p.m. with opening act Josh Kelley.Tickets range from $25.00-$38.00 and can be bought at ticketmaster.com, Ticketmaster Charge-by-Phone (843) 554-6060, local Publix outlets, or weekdays at the Family Circle Tennis center ticket office.
Originally inspired by the band's desire to do something about budget cuts in education, the Homegrown concerts help raise awareness of the needs of schools in the local community. Since its conception in 2003, the concert series has expanded to include a 24-city tour, helping to raise funds and donate supplies to schools in each community.
The band, made up of lead vocalist/guitarist Darius Rucker, Mark Bryan, Dean Felber, and Jim Sonefeld first met up as freshmen at the University of South Carolina in Columbia. By the time they graduated, they had built a strong local following which later exploded into stardom in the 1990's with hits like "Hold My Hand," "Let Her Cry" and "Only Want To Be With You". Rucker's rich, gutsy baritone is the driving force behind the group's crossover success, appealing to rock, folk, country, blues, pop and R& B fans alike. Their debut album, Cracked Rear View, is one of the best selling albums of the 1990's, going platinum sixteen times and establishing them as a musical force to be reckoned with.
ResortQuest is offering visitors to Kiawah Island, Seabrook Island, Isle of Palms and Wild Dunes exciting and exclusive ways to save, all while staying in fully-equipped private homes, villas and cottages. The area offers miles of pristine beach, championship golf, tennis, biking, nature tours, shopping, dining, water-related activities and more. A program called ResortQuest Privileges offers special rates and discounts on activities, tours, dining, and shopping from area venues.
About ResortQuest:
ResortQuest, one of the nation's leading vacation rental and resort real estate companies, provides a one-stop resource in North America's premier resort destinations. ResortQuest Charleston is the largest vacation rental company serving Charleston and the beach resort islands of Kiawah, Seabrook, Isle of Palms, Wild Dunes and Sullivan's Island. ResortQuest has offices located on Kiawah Island, Seabrook Island and Isle of Palms, South Carolina.
###