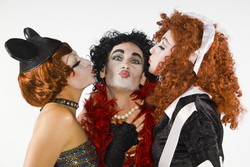 the secret to life itself
Charleston, SC (PRWEB) September 18, 2008
If you're above the age of 15 and breathing, chances are you've heard of The Rocky Horror Picture Show. The Charleston Ballet Theatre performs an interactive interpretation of the wildly popular cult classic phenomenon in a special Halloween tribute on October 30, 31 and November 1 at their 477 King St. Black Box Theatre. Look for Dr. Frank N. Furter, Riff Raff, Magenta, Brad, Janet, and all the other characters whose stories unfold in a unique night of theatrical dance and audience participation. Tickets are $30 and can be purchased by calling 843-723-7334. Also known for more mainstream performance pieces like The Nutcracker, Camelot, and The Great Gatsby, this is the ballet theatre's second turn at The Rocky Horror Picture Show.
The deliciously wicked story of misfits on a collision course to "the secret to life itself" began as British stage musical The Rocky Horror Show. The stage show spawned The Rocky Horror Picture Show, a 1975 film starring Susan Sarandon and Barry Bostwick, with Tim Curry reprising his star turn as Dr. Frank N. Furter, the flamboyant and devious scientist claiming to be from Transylvania. Though the music and Curry's performance were praised, critics initially panned the science fiction/horror film parody. It wasn't until later that midnight showings took on a life of their own, elevating the film to cult status. Over thirty years later, fans still dress up as their favorite characters, parade in the isles and in front of the screen, recite dialogue and throw rice and toast (you just have to be there to understand). For some, it is a cultural rite-of-passage leading to creative expression and a sense of community as they sing along to favorites like "Time Warp" and "Touch-A, Touch-A, Touch Me". To others, it's just a whole lot of fun.
ResortQuest offers visitors to Kiawah Island, Seabrook Island, and Isle of Palms and Wild Dunes exciting and exclusive ways to save while staying in fully-equipped private homes, villas and cottages. The area offers miles of pristine beach, championship golf, tennis, biking, nature tours, shopping, dining, water-related activities and more. A program called ResortQuest Privileges offers special rates and discounts from area venues. Historic downtown Charleston is just a short drive away from the beaches. Call 1-866-253-3633 to find out about special discounts on Isle of Palms and Wild Dunes vacation rentals or lodging on Kiawah and Seabrook.
About ResortQuest
ResortQuest, one of the nation's leading vacation rental and resort real estate companies, provides a one-stop resource in North America's premier resort destinations. ResortQuest Charleston is the largest vacation rental company serving Charleston and the beach resort islands of Kiawah, Seabrook, Isle of Palms, Wild Dunes and Sullivan's Island. ResortQuest has offices located on Kiawah Island, Seabrook Island and Isle of Palms, South Carolina.
###