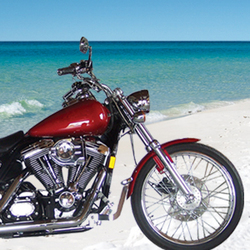 The 2010 Florida State H.O.G. Rally will take place October 20-23 in Destin, Florida. ResortQuest is offering special rates on hundreds of vacation rentals in Destin and Fort Walton Beach during this event.
Destin, FL (PRWEB) February 7, 2010
This coming October the Northwest Florida Emerald Coast, which encompasses Destin and Fort Walton Beach, will become the hot spot for Harley Davidson owners as the 2010 H.O.G. Rally kicks into high gear. The event will take place October 20 - 23, 2010 and all Harley Davidson enthusiasts are invited to participate in this annual event.
"Everyone is very excited that the Destin-Fort Walton Beach area was chosen as the site for the 2010 Florida State H.O.G. Rally", commented Vickie Warner, Marketing Director for ResortQuest Northwest Florida. "The whole community is working together to make sure the H.O.G. Rally is a fun and memorable event for everyone."
The 2010 Harley Davidson HOG Rally will be filled with fun activities such as Harley Davidson Motorcycle displays, bike pokers runs, concerts and much more. Event registration begins September 1, 2010. Reservations for accommodation have already begun with lodging locations filling up fast. ResortQuest suggests that those planning to attend this exciting event reserve their accommodations early for best selection and value.
ResortQuest is offering special accommodation rates for H.O.G. Rally attendees on a large selection of vacation rentals in both Destin and Fort Walton Beach including the popular Waterscape Condos on Okaloosa Island in Fort Walton Beach. Additional information about our H.O.G. Rally special can be found on our website (resortquestnwfl.com/hog-rally) or by calling our 24 hour vacation hotline at 888-909-6807 and asking for the Florida H.O.G Rally special.
In addition to offering the largest selection of Destin Vacation Rentals, ResortQuest also manages hundreds of new Fort Walton Beach Vacation Rentals as well as a wide array of vacation rentals in Beaches of South Walton, Panama City Beach, Navarre Beach, Pensacola Beach, Perdido Key and Alabama's beautiful Gulf Coast. Visit us at ResortQuestNWFL.com or ResortQuestAL.com to learn about the area and our accommodations.
About ResortQuest
ResortQuest, one of the nation's leading vacation rentals and hospitality and resort real estate companies, provides a one-stop resource for vacation bookings in premier resort destinations. ResortQuest, your Vacation Home Network, is the largest marketer and management company of vacation condominiums and home rentals in the U.S., based on a portfolio of nearly 10,000 vacation rental properties. With the inclusion of Partner Affiliates in North America and Europe, ResortQuest now offers over 100,000 vacation rental choices in over 140 destinations world-wide. With over a billion in sales, ResortQuest Real Estate is one of the nation's leading real estate companies focusing exclusively on resort properties, offering superior brokerage services in the country's premier beach, ski and golf destinations."
###