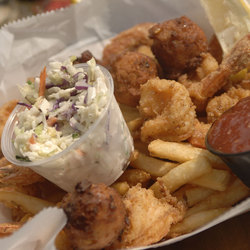 When you visit the Outer Banks, make sure you check out one of these popular eateries
Outer Banks, NC (PRWEB) February 20, 2008
ResortQuest Outer Banks has selected the top 10 Outer Banks restaurants at the popular family vacation destination on the shores of North Carolina . From porterhouse steak to pizza to raw bars, dining on the Outer Banks is a matter of whittling down your delectable choices. And if you love seafood, then you've come to the right place! Our local seafood is caught fresh on all sides of our barrier island and comes in every mouthwatering variation imaginable.
"When you visit the Outer Banks, make sure you check out one of these popular eateries," said Kristen Constantineau, Marketing Manager of ResortQuest Outer Banks. "Whether you're in the mood for a great burger, our well-known local seafood, or a gourmet meal for a special occasion, these Outer Banks restaurants are sure to please every palate. And don't worry about the dress code either. Most places have a 'come as you are' mentality. You can certainly dress up if you so desire, but many of these spots will welcome you straight from the beach…flip flops and all."
Top 10 Outer Banks Restaurants
1. 1587 Restaurant
2. Blue Point
3. Owens' Restaurant
4. Ocean Boulevard
5. Red Drum Grille and Taphouse
6. Meridian 42
7. JK's Restaurant
8. Tortuga's Lie Shellfish Bar and Grille
9. North Banks Restaurant & Raw Bar
10. Gigi's Italian Restaurant & Catering
ResortQuest Outer Banks offers more than 300 Outer Banks vacation rentals. Travelers can discover ResortQuest communities in Northern and Southern Duck as well as numerous vacation rentals in the resort communities of Corolla - including Pine Island, Spindrift, The Currituck Club, Ocean Sands and Ocean Lake, Buck Island, Whalehead, Monteray Shores, Corolla Light, Ocean Hill and Villages at Ocean Hill.
About ResortQuest:
ResortQuest, one of the nation's leading vacation rentals and resort real estate companies, provides a one-stop resource in North America's premier resort destinations, ResortQuest.com. ResortQuest is the largest marketer and management company of vacation condominiums and home rentals in the U.S. ResortQuest Real Estate is one of the nation's leading real estate companies focusing exclusively on resort properties, offering superior brokerage services in the country's premier beach, ski and golf destinations.
###