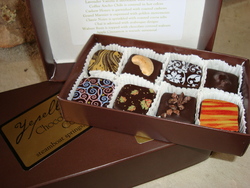 Steamboat Springs, CO (PRWEB) December 11, 2008
ResortQuest Steamboat Vacation Rentals has teamed with a local company, Yepello Chocolates & Confections, to create a delicious welcome gift for ResortQuest guests.
Yepello's exquisite, handmade treats are the perfect complement to the luxury ResortQuest's accommodations. Guests will start out their Steamboat Springs vacation with a delicious gift box of Yepello Toffee Almond Brittle.
In partnering with Yepello, ResortQuest Steamboat continues its mission of supporting local Steamboat Springs businesses, as well as continuing participation and support of eco-friendly and environmentally sustainable practices.
Yepello Chocolates & Confections uses only the finest ingredients and utilizes locally grown products when available, such as local lavender for their Lavender Vanilla truffles, and local honey for their Cashew Honey truffles. Yepello supports Steamboat Springs green initiatives and employs sustainable business practices by using recycled and recyclable packaging, as well as soy-based colorings.
Kelly Yepello attended New York Restaurant School where she then became a teaching assistant. She later became the head pastry chef at Little Nell Hotel in Aspen, Colorado. Yepello has baked delectable desserts for heads of states and numerous celebrities.
This new welcome gift box of Yepello Toffee Almond Brittle is a delicious prelude to the luxurious stay awaiting guests at ResortQuest Steamboat.
About ResortQuest Steamboat Vacation Rentals
ResortQuest Steamboat Vacation Rentals, located in Steamboat Springs, Colorado, specializes in providing property management services (including check-in centers, concierge, on-demand shuttle service, housekeeping and maintenance) to select, deluxe lodging properties around the Steamboat Ski Resort base, including the prestigious Torian Plum, Trappeur's Crossing Resort, Bronze Tree, Meadows at EagleRidge, Cascades Townhomes, Evergreens Townhomes, Ironwood Townhomes, Clock Tower Penthouses, Snow Flower Condominiums and Elk Run Townhomes.
Since 1984, this management company has received the top Service designation and our resorts have been consistently awarded the highest rating of "Excellent" from the independent Condominium Rating Service.
About ResortQuest
ResortQuest, one of the nation's leading vacation rental hospitality and resort real estate companies provides a one-stop resource in North America's premier resort destinations. ResortQuest is the largest marketer and management company of vacation condominiums and home rentals in the U.S., based on a portfolio of over 10,000 vacation rental properties. ResortQuest has local check-in offices at every one of its destinations and full staff on-site to provide the highest service levels to guests. With the inclusion of Partner Affiliates in North America and Europe, ResortQuest now offers over 50,000 vacation rental choices in over 100 destinations world-wide. With over a billion in sales, ResortQuest Real Estate is one of the nation's leading real estate companies focusing exclusively on resort properties, offering superior brokerage services in the country's premier beach, ski and golf destinations.
For additional information, visit ResortQuest.com or call 1-800-GoRelax.
###