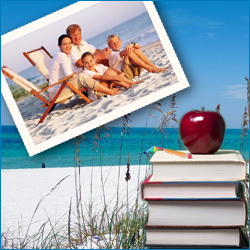 We have worked hard to make our Homeschool package educational, fun and affordable for the entire family
Destin, FL (PRWEB) February 25, 2009
ResortQuest will hold their first Homeschool Program from April 20 through 23, 2009. The curriculum includes both classroom and field trip programs. Classroom instructions will be held at SunDestin Beach Resort and families participating in this program will receive a 25% discount on the cost of their accommodations at this resort. The cost of the four-day course is $109.00 per person. This program is only available to ResortQuest guests. For additional information, call 888-874-9836 and ask about our Homeschool special $HSVP or visit our website at ResortQuestNWFL.com/homeschool.htm].
"We have worked hard to make our Homeschool package educational, fun and affordable for the entire family," states Ron Whitfield, ResortQuest Senior Operations Manager.
"The curriculum includes both classroom and field trip educational programs, including encounters with marine life, wildlife, history, science and art participatory lessons," states Vickie Warner, ResortQuest Regional Marketing Director.
"This is also a great networking opportunity for Homeschooled students and their families," concluded Ron Whitfield.
"The benefits of a family vacation have evolved beyond just family time on the beach. ResortQuest is pleased to provide a vacation that includes activities filled with educational and fun topics from the academic world of science, history, nature and art," stated Lino Maldonado, ResortQuest Vice President of Operations. Northwest Florida.
"We have included field trips to area educational programs such as the Indian Mound Museum, Gulfarium, Destin Fishing Museum, Little Nemo Fishing Charter trip and Emerald Coast Science Center," adds Lino Maldonado.
Visitors to the Destin area receive special lodging rates through ResortQuest. ResortQuest's More for your Money March promotion provides one free night for every two paid nights. For example, guests receive a free night on a three-night stay, two free nights on a six-night stay, or three free nights on a nine-night stay. Guests must mention booking code INT MYM and book no later than March 1, 2009. The promotion is valid for any stay between March 1 and March 31, 2009.
In addition to offering the largest selection of Destin Condo rentals, ResortQuest also manages hundreds of vacation condo rentals on Okaloosa Island in Fort Walton Beach, Beaches of South Walton, Panama City Beach, Navarre Beach and Perdido Key as well as many luxurious private homes in Destin and Beaches of South Walton. ResortQuest also manages quality vacation rentals in neighboring Orange Beach and Gulf Shores along Alabama's beautiful Gulf Coast.
About ResortQuest:
ResortQuest, one of the nation's leading vacation rentals and hospitality and resort real estate companies, provides a one-stop resource for vacation bookings in North America's premier resort destinations. ResortQuest is the largest marketer and management company of vacation condominiums and home rentals in the United States, based on a portfolio of over 10,000 vacation rental properties. With the inclusion of Partner Affiliates in North and South America, the Caribbean and Europe, ResortQuest now offers over 50,000 vacation rentals choices in over 100 destinations world-wide.
###