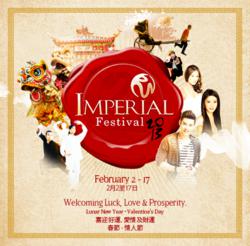 Pasay City, Phillipines (PRWEB) February 08, 2013
Resorts World Manila transforms into an enchanting Oriental destination filled with exciting lion and dragon dance performances, live music and entertainment, Asian delicacies and auspicious elements as it welcomes the Lunar New Year with the Imperial Festival 2013, taking place from February 2-17.
Celebrations kicked off on February 2 at the main entrance with a firecracker ceremony to usher in good luck and positive energy. The Philippine Ling Nam Athletic Association wowed the crowd at The Plaza, Newport Mall with fiery dragon dance performances, a Wushu demonstration and a yo-yo exhibition. Kung Seng Keng, Malaysia's world-champion lion dancers, amazed with a heart-stopping lion dance routine on top of tall poles. Magician Jeffrey Tam mixed magic tricks with rib-tickling jokes while local celebrities Xian Lim and Kim Chiu added an air of romance to the evening.
Resorts World Manila then treats guests to an authentic Chinatown experience from February 4 to 8 as The Plaza transforms into an exotic bazaar filled with authentic Chinese delicacies, lucky charms, numerologists and calligraphy artists. A Chinese orchestra and comedienne Giselle Sanchez will spice things up with generous amounts of music and laughter.
To give the young ones a glimpse Ancient China and its traditional mode of transport, children 7 to 12 years of age can enjoy free rickshaw rides within Resorts World Manila.
The Philippine Ling Nam Association returns on February 9 with another firecracker ceremony and a dragon dance performance as we count the hours until the Lunar New Year. All-day merrymaking follows at The Plaza on February 10, with magician Jeffrey Tam and rocker Champ Lui Pio of Hale.
The Imperial Festival is also a celebration of love. Spend quality time with your loved ones at The Plaza from February 11 -17 with live music from Class of Six, Rox Puno Band, Princess Velasco, Jay Durias of South Border, Lougee Basabas of Mojofly, Barbie Almalbis, Kitchie Nadal, Bo Cerrudo, Luke Mejares and TV 5 artists. If you're planning to go solo, be a little bit adventurous and join the Speed Dating and It's a Date celebrity games.
Plan a romantic weekend getaway at the luxurious Maxim's Hotel, where you can book an overnight stay for two at a Maxims Suite for only Php12,453 net. Or you can reserve a serviced apartment at Remington Hotel for just Php2,712 per person.
Feeling lucky? Keep earning points to get stickers and redeem the luckiest charms via the Slots Zodiac Luck promo. Sign up for free Resorts World Manila membership for a chance to win a brand new Honda Odyssey in the Lunar New Year Sign up and Drive promo. All you need is to earn at least 1 Genting Point to earn a raffle ticket.
Kung Hei Fat Choi!
For a detailed event schedule, log on to http://www.rwmanila.com.
Resorts World Manila (RWM) is the first integrated tourism destination in the Philippines. Conveniently located across Ninoy Aquino International Airport 3, RWM is an instant gateway to Philippine hospitality. This lifestyle hub is home to three international lodging brands: Maxims Hotel, the first all-luxury suite hotel in the country; Marriott Hotel Manila, a five-star brand known all over the world; and Remington Hotel, for travelers on the lookout for real value.
RWM's Newport Mall features luxury retail brands from all over the world. It offers a unique viewing experience at The Newport Cinemas with its state-of-the-art cinema technology. World-class plays and performances are staged at The Newport Performing Arts Theater, the metro's multi-awarded event venue.
RWM is also home to the biggest gaming facility in the Philippines. RWM offers free membership that gives guests access to rewards, discounts, freebies, and exclusive invites to RWM events.