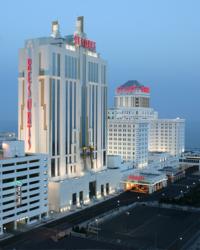 While the circus has come to town before, this partnership is a first for Atlantic City and continues our commitment to bring in new and exciting entertainment to Resorts and the City
Atlantic City, NJ (PRWEB) July 12, 2011
Ladies and gentlemen, children of all ages – welcome to the circus. Daredevils, contortionist, clowns and more will converge on Resorts Casino Hotel this summer for a series of shows that will entertain people of all ages. Resorts Casino Hotel announced today it will collaborate with The Circus Beach Partners to present three world-class circuses in a new entertainment pavilion beginning July 14.
"While the circus has come to town before, this partnership is a first for Atlantic City and continues our commitment to bring in new and exciting entertainment to Resorts and the City," said Dennis C. Gomes, owner, president and C.E.O. of Resorts Casino Hotel. "With the combination of the Great American Circus, Cirque Polynesian and the Naked Circus, we really do have something for everyone in a new venue that will give us more flexibility with headliner shows and capacity."
The addition of the three circus' to Atlantic City's entertainment schedule continue to follow the directives set forth by both the Mayor's Task Force and the Governor's objectives to bring more family-friendly entertainment to city and unique entertainment that will draw in new visitors. The three circus' will be: Atlantic City's Great American Circus, Cirque Polynesian and Cirque Risque - The Naked Circus. All three will be shown on a daily basis with the exception of nightly shows where Resorts will use the pavilion for other headliner entertainment.
Circus Partners and Resorts promises this will be one set of shows you will not want to miss. "Alone each of these shows will draw a great crowd, but the combination of the three at one location on a regular schedule is really spectacular. It allows guests of all ages and tastes to really enjoy what the circus can do and we are thrilled to cultivate this partnership at Resorts," said Tuffy Nicholas, producer of all three circuses.
Atlantic City's Great American Circus
Clowns, trapeze acts, high wire stunts and more are the perfect combination of fun and excitement for all ages. Featuring a talented cast of 20, Atlantic City's Great American Circus adds an element of family fun to Atlantic City's entertainment scene.
Cirque Polynesian
Fire eaters, dancers and acrobats perform death defying feats and create a fun luau vibe that Atlantic City has never seen before. This talented cast will dazzle audiences with stunts like the wheel of death and spinning motorcycle acts in addition to renowned aerialist and contortionists.
Cirque Risque – The Naked Circus
What is sure to become the most talked about casino show in the country, Cirque Risque – The Naked Circus will undoubtedly capture the audience's attention. The sexiest show in Atlantic City, Cirque Risque will feature daring acrobatics and high flying acts performed nearly nude.
Times, days and tickets are priced as follows:

The Great American Circus: $9-$16 for children, $18-$35 for adults, Wednesday – Friday at 4:30pm, Saturday & Sunday at 1pm & 4:30pm
Cirque Polynesian: $12 - $18 for children, $30 - $45 for adults, Tuesday – Sunday at 7:30pm
Cirque Risque – The Naked Circus: (Must be 18 or older to attend) $39 - $69, Tuesday – Sunday at 11pm
Tickets can be purchased through Resorts' Box Office or through Ticketmaster at 1.800.736.1420 or http://www.ticketmaster.com.
Tickets for Atlantic City's Great American Circus and Cirque Polynesian will go on sale Saturday, July 9, 2011. Tickets are available through Resorts Box Office or Ticketmaster at http://www.ticketmaster.com or 1.800.745.3000.
For more information on Resorts Casino Hotel in Atlantic City, visit the official Web site at http://www.resortsac.com or follow us on Twitter at http://www.twitter.com/resortscasino and Facebook at http://www.facebook.com/resortscasino.
Contact:
Courtney Birmingham
cbirmingham(at)resortsac(dot)com
609.340.7620
###