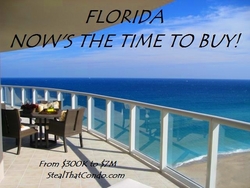 I currently have several buyers interested in bulk condo purchases and I have been traveling the entire state analyzing projects for them
Singer Island, Florida (PRWEB) November 3, 2009
According to WCI Communities, the sale of The Resort at Singer Island to Urgo Hotels was finalized October 29, 2009 for $7.1 million.
WCI Communities, a luxury homebuilder based in Bonita Springs, filed Chapter 11 bankruptcy protection over a year ago and announced on September 3, 2009 that it emerged from Chapter 11 as a newly reorganized, private company, eliminating more than $2 billion in debt and liabilities.
WCI literature reports the company spent $210 million to build the oceanfront Resort at Singer Island comprised of 66 condo residences, 239 hotel/condos, a restaurant and a spa. "I find this to be the most impressive building on the Island, and it is a place where I enjoy conducting much business," said Kevin Dickenson, a Florida-licensed Realtor with StealThatCondo.com.
"Starwood Luxury Group was the Resort's hotel operator since first opening in April 2007, but Urgo Hotels changed the name and operator today to a Marriott brand" added Dickenson. The new name is now officially the Palm Beach Marriott Singer Island Beach Resort and Spa according to the hotel front desk.
Dickenson reviewed public records to determine that Urgo Hotels paid $4 million for four three-bedroom Residence condos ($354 per square foot decorator-ready) and $2.1 million for 14 hotel/condos ($131 per square foot furnished) and $1 million for the hotel operating agreement, the spa, the restaurant and the common areas. "The hotel/condo prices declined the most, as units were originally released in a 2004 buying frenzy and purchased primarily by speculators," stated Dickenson. "The hotel / condos were the hardest hit - a two-bedroom unit that was $755,000 ($600 per square foot) opening day sold for $165,000 ($131 per square foot) or 78 percent less than opening day pricing in this bulk transaction," he added.
However, the decline has not been as severe for the Residence condos at The Resort. Urgo paid $1 million for a three-bedroom decorator-ready Residence condo originally priced at $1.8 million opening day, or 44 percent off opening day pricing. "The view plays a key factor in determining the value of an oceanfront condo. Today I closed on a unit at The Resort and my buyer received a fantastic deal on a four-bedroom Residence condo in the northeast corner, paying $1 million or 19 percent under opening day pricing," Dickenson said.
Urgo is not the first buyer to express interest in bulk condo acquisitions in the area. "I currently have several buyers interested in bulk condo purchases and I have been traveling the entire state analyzing projects for them," Dickenson concluded.
Kevin Dickenson and his team at Prudential Florida Realty are based in Palm Beach Gardens, Florida. They specialize in bank-owned properties and distress sales. For additional information, Kevin can be contacted at 561.262.8243, or visit his website at StealThatCondo.com
###