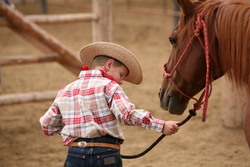 Paradise Ranch has been operating as a guest ranch for over 100 years. Our visitors recognize the fact that this is a cost-effective way to vacation.
Buffalo, WY (Vocus) April 1, 2009
Paradise Ranch, near the Old West town of Buffalo, Wyoming, has stood the test of time. "Paradise Ranch has been operating as a guest ranch for over 100 years. Our visitors recognize the fact that this is a cost-effective way to vacation." says Paradise Ranch owner Clay Miller. Upon arrival, guests can put away their wallet because cash won't needed for a full seven days. All activities, meals and lodging are included in one flat fee.
On a week-long stay at Paradise Ranch, guests can go horseback riding, perfect fly-fishing skills, hike in the Cloud Peak Wilderness Area, eat authentic cowboy cuisine, and stay in a cozy cabin for one all-inclusive price. Rates range from $1,200 per adult per week during the early season (early June) to $1,975 per adult per week in high-season (August). Children's rates range from $550 to $1,850 depending on age of child and time of year. Guest ranch options include the following:
Just for Kids
While mom and dad are enjoying wilderness adventures, pint-sized guests at Paradise Ranch enjoy their own brand of FUN (that is literally the letters on the Paradise Ranch registered brand). Specially trained wranglers look after children and run the kids' program, which offers age-specific activities, such as pony rides for kids under 6, and horseback-riding lessons for kids over 6. Outdoor games, nature hikes, arts & crafts, and overnight campouts are also on the schedule. Teenagers have their own program, with an ice-cream social and an overnight pack trip just for them.
Family Reunions
For extended families who live all over the country, Paradise Ranch is an exceptional place for multiple generations to gather for a reunion or to celebrate a milestone wedding anniversary. After all, a stay at Paradise Ranch is hassle-free: no cars are necessary, activities are fully arranged for you, and nobody has to cook!
Special Ladies' Packages
Female guests can embrace their inner cowgirl with a women-only stay at Paradise Ranch in September. The usual activities like fishing and horseback riding are offered, as well as wine tasting and cooking demonstrations. Plus, an experienced massage therapist can be requested to soothe sore muscles after a couple of days in the saddle.
Special Adults Only Weeks
Paradise Ranch offers special adults-only weeks, where grown-ups have all the fun! With fewer guests on the ranch in early and late summer, the schedule is a bit more relaxed, with flexibility in the riding program. The weather this time of year is typically glorious: blue skies, cool temperatures and beautiful fall colors. In 2009, adults-only weeks are offered June 7 to 14 for $1200 per person and also August 23 to September 27 and cost $1400 each.
You Say You Don't Ride…
Paradise Ranch is renowned for its horseback-riding programs, with its ultra-knowledgeable wranglers and guides leading guests on trips ranging from two hours to four days long. Novices and expert riders are welcome here. But even if you don't care to horseback ride you can still enjoy a ranch vacation. Wildlife viewing is outstanding here; it's not unusual to spot elk, moose, deer, badger, mountain lion, coyote, beaver, fox, antelope, wild turkey and eagles on nature walks throughout the property or from your cabin outdoor deck. Meals are festive, fun affairs in themselves, and nightly entertainment includes cowboy sing-a-longs, square dancing and talent shows. Other ranch amenities include an outdoor swimming pool and horseshoe pits. And there's nothing wrong with bringing a good book (or two or three) and simply relaxing on your cabin's outdoor deck every afternoon before naptime.
Groups & Meetings
Meeting planners who are interested in organizing unique and exciting executive retreats should consider Paradise Ranch with conference space for 50 people and 2,400 square feet of meeting space. The ranch can arrange special conference itineraries and activities, along with competitive lodging rates.
Getting Hitched in the High Country
Paradise Ranch can accommodate up to 70 guests for a destination wedding in one of the most beautiful locations in all of Wyoming. Brides and grooms couldn't ask for a prettier backdrop for wedding photos: lush meadows and snowcapped mountains. Wedding ceremonies can take place outdoors or at the Sam Elliot Pope Memorial Chapel, and are arranged for ranch guests who are staying on property for a full week.
About Paradise Ranch
Paradise Guest Ranch is tucked in the heart of the Big Horn Mountains in north-central Wyoming near the historic town of Buffalo. To arrange a week-long stay, call 307-684-7876 or email fun@paradiseranch.com. Click here for an online Press Kit and Press Releases. Media interested in a fam trip please contact Vicky Nash, PR Representative.
###