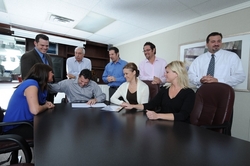 Metropolitan Detroit's 101 Best and Brightest Companies to Work For
Troy, Michigan (PRWEB) October 29, 2009
RESOURCE, the leading Recruiting and Learning Solutions Company, has been named one of "Metropolitan Detroit's 101 Best and Brightest Companies to Work For" in 2009 by the Michigan Business and Professional Association (MBPA). This annual award recognizes outstanding places of employment in the metropolitan Detroit area.
"I am extremely proud of our team," said Aaron Chernow, Chief Executive Officer of RESOURCE. "Our employees have a passion for aligning talent, values and performance to accelerate individual and organizational success. It is this, and their positive enthusiasm, that makes RESOURCE a great place to work."
The selection of the winning companies is the result of independent research that evaluates each entry in the following categories: communication, community initiatives, compensation and benefits, diversity and multiculturalism, employee education and development, employee engagement and commitment, recognition and retention, small business, recruitment and selection, and work-life balance. The MBPA will be honoring the winning companies in a special symposium and awards luncheon taking place on October 29, 2009 at the Dearborn Inn, a Marriott Hotel.
RESOURCE has also been named a Crain's Detroit "Cool Place to Work in Tough Times". To learn more about the RESOURCE team, view the video: We Are Resource.
About RESOURCE
RESOURCE is headquartered in Troy, Michigan, with satellite offices in Dallas, Texas, and Westin, Florida. For over 35 years RESOURCE has focused its efforts on becoming a global leader in providing Recruiting and Learning Solutions and today is comprised of over 550 consultants and 100 clients nationwide. Industries served include Healthcare, Manufacturing, Retail, Hospitality, Telecommunications, Energy and Utility, Information Technology and Finance. RESOURCE is truly invested in the success of your organization and people by aligning Talent, Values and Performance.
About the Michigan Business and Professional Association (MBPA)
Based in Warren, Mich., the MBPA is the largest business organization of small to medium-sized businesses in Michigan, representing more than 20,000 members who employ more than 200,000 persons. Members include attorneys, physicians, architects, accountants, construction companies, banks, retailers, wholesalers, manufacturers and the like. Member businesses receive numerous benefits including free legal and financial consultations; discounted technology, automotive and office products; employee training and recruitment assistance; and competitive insurance rates. The MBPA is a sister association to the Michigan Food & Beverage Association (MFBA).
Contact:
April Jennings, Marketing Coordinator
248.585.4750 x353
smartworkforce.com
###