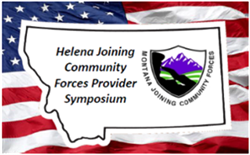 A large number of Service members, Veterans and their Families reside in the Helena area. Some of these men and women are in serious need of housing, medical care and employment, said Steve Garrison, Co-Chair of the Lewis and Clark County JCF Coalition
Helena, MT (PRWEB) July 06, 2016
Key organizations in Montana have teamed up to hold the 3rd Annual Military Resource Fair and Veteran Stand Down on Saturday, August 13th from 9:00 a.m. – 4:00 p.m. at the Gateway Center located at 1710 National Avenue in Helena, MT. The one-day event will feature over forty community resource booths and a complementary agenda boasting a variety of helpful information sessions. The event is free and open to all area Service members, their Families and Veterans.
In today's fiscally-constrained environment, community events such as these are extremely important to connect the resources and services offered by agencies and organizations to the Military community. "A large number of Service members, Veterans and their Families reside in the Helena area. Some of these men and women are in serious need of housing, medical care and employment. Through the networking efforts of the members of JCF, we have identified and contacted many agencies, organizations and individuals in the area that are willing to provide this needed support. These community programs and services simply need help finding and connecting to Service members, Veterans and their Families. The Montana Military Community Resource Fair and Veteran Stand Down is our best chance to bring everyone together. If you are currently serving or have served and need help, please join us at the Gateway Center on August 13th," stated Steve Garrison, Co-Chair of the Lewis and Clark County Joining Community Forces (JCF) Coalition.
During the event, attendees are invited to join seminars related to spirituality & faith and career & education, along with a free lunch provided by the Elks Lodge #193. In addition, this year's event will offer other services, to include legal and financial clinics, basic wellness checks and access to the VA Montana HealthCare System. Children are also welcome to attend and be part of the family-friendly activities.
The Military Resource Fair and Veteran Stand Down are made possible by Army OneSource, Carroll College, VA Montana HealthCare System and Montana Joining Community Forces.
For more information about this event, please contact Brandy Keely at (406) 447-4550 or by bkeely(at)carroll.edu.
Media Contacts:
Brandy Keely, Veteran Service Coordinator, Carroll College, (406) 447-4550, bkeely(at)carroll.edu
Sheila Warner, Montana State Community Support Coordinator, Army OneSource, (208) 660-5607, swarner(at)afsc.com
###