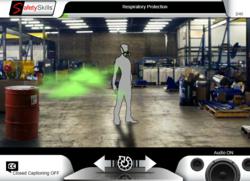 Oklahoma City, OK (PRWEB) May 15, 2013
The Bureau of Labor Statistics has found that there were 14,600 recordable cases of respiratory illnesses in 2009. Respiratory hazards are encountered in a wide variety of professions, from construction to hospital work. An estimated five million workers are required to wear respirators in 1.3 million workplaces in the United States. Respirators will protect workers against insufficient oxygen environments, harmful dusts, fogs, smokes, mists, gases, vapors, and sprays. These hazards can cause cancer, lung impairment, diseases, or even death. Compliance with the OSHA Respiratory Protection Standard could avert hundreds of deaths and thousands of illnesses annually and is an annual requirement by OSHA.
The SafetySkills® Respiratory Protection course covers the general requirements for respiratory protection in an online safety training course which covers 29 CFR 1910.132 and some of the training requirements of 29 CFR 1910.134. This online safety training course will train workers over the different types of respirators, the advantages and disadvantages of each type, when to use which respirator, and how to properly maintain and store respirators. Additional training from the employer is required on assessing the specific types of respiratory hazards that the employees could encounter on the job as well as a hands-on walk through on how to properly don and doff the respirator.
All SafetySkills® courses are designed, built and maintained by us, here in the good old U.S. of A. We are also the folks that support it. Our EHS specialists, software engineers, and digital design team are standing by to make sure your deployment is a success. You can rest assured that every component of every course is continually audited by our regulatory experts to ensure that your deployed courseware is always current with prevailing regulations and industry standards.