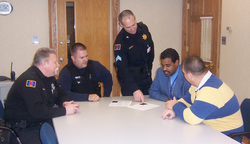 We could not have done this without the dedication and cooperation of local police and fire personnel who spent days working with us and other districts on safety planning, and the personnel from our district and other districts who put in the time to make the buildings safer for students from their first day in kindergarten to their last day in high school. This truly was a team effort
Chicago Heights, IL (Vocus) February 24, 2009
Bloom Township High School District 206 announced today that it and seven other districts are the first schools in Illinois to install the Rapid Responder® crisis management system to protect students and staff. Rapid Responder from Prepared Response Inc. provides school security and public safety agencies with secure and instant access to critical campus information including floor plans, aerial imagery, evacuation routes and other important information via a computer. The districts received a federal school safety grant in 2007 to install Rapid Responder which now protects 39 elementary, middle, high school and administration facilities in a total of eight districts. Prepared Response also provided emergency preparedness training for the districts. The other districts include: Brookwood 167; Chicago Heights 170; Ford Heights 169; CCSD 168; Sandridge 172; Steger 194; and SPEED 802.
Bloom Township District superintendent, Glen Giannetti, said, "Maximizing the safety of our students and staff has always been, and always will be, our highest priority. Educational success is easier when the environment is safe."
"We could not have done this without the dedication and cooperation of local police and fire personnel who spent days working with us and other districts on safety planning, and the personnel from our district and other districts who put in the time to make the buildings safer for students from their first day in kindergarten to their last day in high school. This truly was a team effort," added Giannetti.
"The safety of the students and staff is a major concern for these districts and we are proud that Rapid Responder can now be used during emergencies to help protect them," said Jim Finnell, president and CEO of Prepared Response. "While these are the first school districts in Illinois to use Rapid Responder, the system is currently protecting more than 2,900 schools in 15 states."
Rapid Responder was used at a Washington state high school to quickly contain a gunman and evacuate 2,000 students in 20 minutes and is protecting critical infrastructure across the U.S. Rapid Responder is endorsed by the National Sheriffs' Association and is the only campus crisis management system Certified as a "Qualified Anti-Terrorism Technology" through the U.S. Department of Homeland Security's SAFETY Act Program.
About Bloom Township High School District 206
Bloom Township's mission is to provide students with relevant educational experiences that assist in their attainment of competency in all academic areas and the ability to apply these skills to real life endeavors. While working within the multicultural school/community environment, we strive to empower individuals-personally and socially-to achieve their maximum potential using higher order thinking skills that prepare them for the constantly changing challenges of our global society. http://www.sd206.org
About Prepared Response, Inc.
Prepared Response Inc. develops emergency preparedness planning and response systems that enable police, fire, and other emergency responders to save lives and mitigate property damage. The company's flagship product, Rapid Responder, runs on laptop computers and allows first responders to instantly access more than 300 site-specific data points, including tactical plans, geospatial (GIS) information, floor plans, interior and exterior photos, staging areas, hazardous materials locations, utility shut-offs, and evacuation routes for virtually any facility. Rapid Responder is the only campus crisis management system to receive Certification status by the U.S. Department of Homeland Security under The SAFETY Act. Rapid Responder protects more than 14,000 facilities and is currently deployed in educational facilities, public buildings, critical infrastructure, and private facilities across the U.S.
Prepared Response, Inc. is a privately held company headquartered in Seattle, Washington. Additional information can be found at http://www.preparedresponse.com or by calling 1-800-705-1856.
###